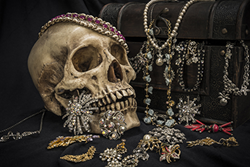 Unlike the Pharaohs of ancient Egypt, I can't fill a pyramid with my treasures and slap a curse on anyone who comes calling.
Washington, DC (PRWEB) April 30, 2015
"Who Says You Can't Take It With You?" is the topic of a new brief from Convergent Wealth Advisors. This brief examines ways to preserve and protect valuable collections—art, items of historical interest, jewelry, and the like—after your death. Every year, millions of dollars of valuable collectibles end up in landfills or yard sales, simply because collectors didn't think about what would happen to these treasures upon their death.
In this brief, author and Convergent CEO Douglas Wolford discusses four important steps that all collectors should consider to help safeguard their collections upon their passing. This paper is part of Convergent's "Live Well" series that seeks to broaden the traditional scope of wealth management and its impact on living well.
As Wolford says, "Like it or not, I'm not the owner of my collections—I'm just looking after them for now. Collecting may be fun, but it also comes with a responsibility to keep these relics of history safe for the enjoyment of generations to come and the need to preserve their value and transferability."
Wolford has been a collecting enthusiast for over 25 years.
About Convergent Wealth Advisors
Convergent Wealth Advisors is a recognized industry leader in wealth management, managing $8.2 billion in assets (as of December 31, 2014). Convergent provides investment consulting services and customized wealth management solutions to ultra-high net worth individuals and family offices with investable assets of $5 million and more. Independence by Convergent™ is a division of Convergent focused on servicing clients with $1 million and more in investable assets.
City National Bank is backed by $32 billion in total assets (as of December 31, 2014), and provides banking, investment and trust services through 75 offices, including 16 full-service regional centers in Southern California, the San Francisco Bay Area, Nevada, New York City, Nashville, and Atlanta. The company and its investment affiliates manage or administer $60.8 billion in client investment assets as of December 31, 2014. City National is the 25th largest American commercial bank by asset size.
Convergent has offices in Washington, DC, Los Angeles, New York, and Portland, OR.
Media Contact: Douglas Wolford | 301.284.1112 | Doug(dot)Wolford(at)ConvergentWealth(dot)com
Non-deposit investment products are not FDIC insured, are not deposits or other obligations of Convergent Wealth Advisors, are not guaranteed by Convergent Wealth Advisors and involve investment risks, including the possible loss of principal.
Convergent is a majority-owned subsidiary of Convergent Capital Management, which is a subsidiary of City National Corporation (NYSE:CYN), the parent company of City National Bank.