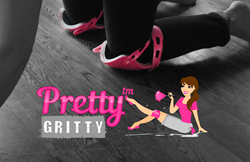 Get down to the "Nitty" with Pretty Gritty Knee Pads!
Williamsport, PA (PRWEB) May 01, 2015
Williamsport house cleaner launches Kickstarter campaign for Pretty Gritty Knee Pads to help ladies protect their knees while spring cleaning, washing the floors, bathing the children, gardening, painting and all household chores. It's time to look pretty and clean in comfort.
Ladies' knees take a beating, but thanks to a fourth generation professional house cleaner, a pink, comfortable knee pad was designed. The design of the knee pad takes careful consideration to what women are looking for in knee protection. Most women want to be feminine and that's why the knee pad is pink. They want comfort. The comfortable two strap design, hits above and below the back of the knee to relieve pressure directly behind the knee. Also, the versatility of the feminine design allows it to be worn with pants or shorts. A soft sleeve slips over the leg with shorts and the sleeve can be removed to wear with pants and for easy laundering.
Backers of Pretty Gritty receive great rewards and can be the first to own a pair of these pink, feminine knee pads with bling. Top pledge amounts will contribute to cleaning houses for cancer. Depending on the pledge amount, selected persons diagnosed with cancer will receive a house cleaning funded by pledges made to the Pretty Gritty Knee Pad Kickstarter campaign http://prettygrittykneepads.com/. Go to prettygrittykneepads.com and back Pretty Gritty Knee Pads into production.