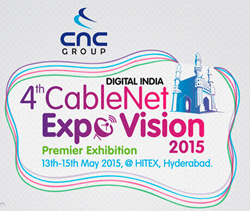 The MultiVirt and VideoPropulsion teams have been working hard together to bring the right solutions at the right price for the satellite and cable markets of India
Slinger, WI (PRWEB) April 30, 2015
VideoPropulsion® (OTC:VPTV) is pleased to announce that it will be exhibiting with New Delhi based MultiVirt India Pvt Ltd at the 4th Annual CableNet Expo Vision 2015 held May 13-15 in Hyderabad, India. The two companies announced their collaboration less than 3 months ago and are demonstrating several low cost digital headend solutions that are tailored specifically for the satellite and cable digital television markets of India.
One solution on display is a Multivirt integrated headend appliance capable of selectively receiving 60 channels of "Free-To-Air" (FTA) programming via DVB-S2 satellite, transcoding from H.264 to MPEG2 (or MPEG2-to-H.264), then re-modulating the MPEG digital television programs over QAM on a COAX network to a standard DVB-C set top box (STB). The appliance use VideoPropulsion's preeminent, high-density MPEG Transcoder and DVB-C QAM modulator (ITU-T J.83 Annex A) PCIe cards.
A second MultiVirt solution is designed for the local cable operator (LCO) to inject up to 32 of its own local programs onto the COAX cable plant. The local supplied content is encoded into MPEG2 or H.264, then transmitted to the VideoPropulsion EdgeQAM where it is combined with the 60 FTA channels for delivery to the STB.
"The MultiVirt and VideoPropulsion teams have been working hard together to bring the right solutions at the right price for the satellite and cable markets of India", said Rakesh Gupta, Founder & Director at MultiVirt. "We are focused on delivering working products well in advance of the deadlines for the final phases of the digitation of television services in India."
"We are very pleased with our progress in creating customized solutions to address the unique satellite and cable DTV markets in India", said Lee McKenna, Vice President of Marketing at VideoPropulsion. "Collaborating with MultiVirt has enabled us to focus on creating high-density low-cost solutions with a laser-focus on meeting exacting customer requirements and specifications."
About MultiVirt
MultiVirt India Pvt Ltd as a company was established in 1995 to cater to the growing markets of broadcast and multimedia in India. Since then they have become one of the leading pioneers in Digital Media technologies and applications. Their core competency has been consultancy, systems integration and turnkey project execution for broadcast, interactive multimedia, mobile and web-media. The Company also develops content and software applications for broadcast, web and mobile media.
For further information, contact:
Rakesh Gupta Founder/Director
MultiVirt India Private Limited
101 A, Ashram Chowk, 2nd Floor
New Delhi 110014
India marketing(at)multivirt(dot)com
+91-11-26340035, +91-11-26349290, +91-11-26342708
About VideoPropulsion
Now in it's 40th year, VideoPropulsion has been a world leader in hardware and
software for high performance, low cost per stream, digital content manipulation, and has established a reputation for providing unique HDTV, VoD, and IPTV products. The Company offers revolutionary FloodGate satellite and CATV transcryption appliances as well as OEM computer modules for a variety of applications, including streaming, multiplexing, demultiplexing, modulation, demodulation, transcoding, encryption, and splicing MPEG formatted data.
For further information, contact:
Lee McKenna
Vice President of Marketing
VideoPropulsion
255 Info Highway
Slinger, WI 53086
(262) 644-1000 x250
sales(at)videopropulsion(dot)com
http://www.videopropulsion.com
VideoPropulsion and FloodGate are registered trademarks of VideoPropulsion
Interactive Television, Inc.