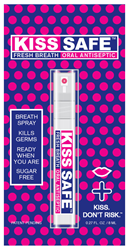 Malibu, CA (PRWEB) May 04, 2015
Malibu Biotech Systems LLC salutes the arrival of KissSafe™ oral antiseptic breath spray. KissSafe™ is the first personal hygiene product dedicated specifically to making kissing a safer experience while adding fresh breath appeal. KissSafe™ contains an FDA-approved active ingredient that safely and effectively kills germs in the mouth and oral cavity before and after intimate kissing. It also contains ingredients that possess additional wellness benefits. KissSafe's proprietary prevent-tech will be a game changer for kissing and intimacy.
A study conducted by Dutch scientists was published in the journal Microbiome last November, and brought to the media's attention that a 10-second kiss shares 80 million germs, making headlines around the globe. Medical research suggests that the transfer of germs is just the tip of the iceberg when it comes to the risks associated with intimate kissing.
People are meeting, kissing and more at an accelerated pace thanks to social apps like Tinder and Grindr that engage millions of users daily. KissSafe™ is the first product in a new line of personal relationship enhancers designed to make intimacy better and safer.
Reasons to use KissSafe™:

Eliminates germs in the mouth while freshening breath
Fresh mint flavor from natural peppermint oil tastes great and protects whether you are giving or receiving a kiss
Sugar free, sweetened with Stevia
Each pocket-sized bottle contains 110 metered sprays, which equals 55 double spray doses
Don't let a kiss be more than just a kiss.
Kiss. Don't Risk.™
KissSafe™
KissSafe™ is now available on Amazon.com and KissSafe.com
About Malibu Biotech Systems LLC:
Malibu Biotech Systems LLC is an enlightened company dedicated to creating products that make physical intimacy more enjoyable, and safer. Malibu Biotech Systems LLC eagerly embraces its role as manufacturer and marketer of products that enhance the experience of human intimate behavior, while raising community awareness to the safest practices and encouraging socially responsible behavior. For more information visit http://www.facebook.com/KissSafe