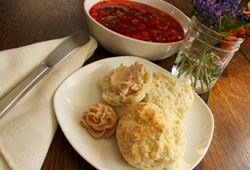 For those who want to try the popular Hodsons offerings at home, Chef Justin Adrian has shared his biscuit recipe that's easy to prepare.
Denver, Colo. (PRWEB) April 30, 2015
Mother's Day is a time to give back to the woman you call mom, and kicking things off with a fabulous brunch is a great way to start. At Hodsons at the Streets at SouthGlenn in Centennial, Colo., in the Denver metro area, a special menu for the day will include Hodsons signature lobster Benedict made with Maine lobster and hollandaise and served atop freshly made buttermilk biscuits for a twist on the classic breakfast favorite, and pancakes topped with a house-made mint-flecked strawberry compote and fresh strawberries. Moms will appreciate Hodsons' comfortably elegant setting for brunch on their special day. The Mother's Day menu will be available beginning at 10 a.m. on Mother's Day, Sunday, May 10, 2015.
While Hodsons biscuits are a crowd pleaser with the restaurant's lobster Benedict, they are equally good on their own paired simply with cinnamon honey butter or the mint-strawberry sauce. For those who want to try the popular Hodsons offerings at home, Chef Justin Adrian has shared his biscuit recipe that's easy to prepare, bakes well at Denver's mile-high altitude and is kid-friendly enough to get the little ones involved as a special treat for Mom. The chef's recipe for buttermilk biscuits – along with quick-to-make recipes for the two toppings – is available on the Hodsons SouthGlenn website here: http://hodsonsbarandgrillsouthglenn.com/mothers-day-brunch-recipes-to-pamper-mom-from-hodsons-chef-justin-adrian.
In addition to the lobster Benedict and the strawberry-topped pancakes, the Hodsons Mother's Day Brunch menu will include a classic Benedict prepared with prosciutto. Also on the menu are three farm-fresh eggs prepared any style and served with hash browns and locally sourced bacon and fresh fruit, or Mom can customize her eggs at a build-your-own omelet station. For extra festive sparkle, the Mother's Day menu will be accompanied by drink specials including a build-your-own Bloody Mary bar and a bottomless mimosa bar with fresh juices – orange, grapefruit, mango and pineapple. For the special Mother's Day pricing, visit the Hodsons SouthGlenn website.
Reservations are essential on this popular day and can be made by calling 720-457-3852. The only upscale dining experience in the new Streets at SouthGlenn, Hodsons is located at 6851 S. Gaylord St. in Centennial, Colo. For more information visit the Hodsons SouthGlenn website at http://hodsonsbarandgrillsouthglenn.com.
Hodsons, a Colorado restaurant with two locations – in downtown Denver and at Streets of SouthGlenn in Centennial, Colo., recently relaunched its menu with an emphasis on sophisticated natural, locally sourced dishes and a fresh Asian take on the restaurant's American contemporary fare under the creative guidance of Executive Chef Justin Adrian. Dueling Ravioli is a signature dish on the new menu being offered at both the Colorado Hodson's locations, and while the menu has retained some popular favorites like the rotisserie chicken salad, other new menu items include Dueling Ahi Tuna featuring both tuna tartare and seared ahi tuna; Seared Scallops over saffron risotto cakes topped with a basil aioli and yuzu caviar; and Surf & Turf sushi roll with lobster, Kobe carpaccio and a balsamic reduction topped with a chipotle aioli.
In downtown Denver, the second Hodsons is located at 999 18th St. in Denver Place, across the street from the Ritz-Carlton. In addition to its recently relaunched menus in both Hodsons locations, the upbeat stylish eateries also offer an outstanding wine list, local microbrews and a selection of hand-crafted specialty cocktails. Interiors combine rich leather seating, Italian contemporary glass accents, visually distinctive bars, outdoor patio dining and views of the lively street scene at both locales.
About Hodsons Restaurants:
Along with its sister restaurant, Hodsons Denver, Hodsons SouthGlenn is owned and operated by Colorado-based Roadhouse Hospitality Group, which currently owns and operates 17 restaurants in the Denver metro area and in Colorado mountain towns and resorts. For more information, visit the Roadhouse website at http://roadhousehg.com/.
Media contact:
Darla Worden, WordenGroup PR, darla(at)wordenpr(dot)com, 303-777-7667