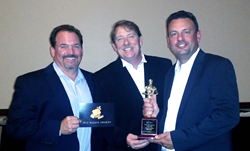 "Strong independent agencies, like AIS, are a vital part of the insurance industry and an important resource for consumers."
Cerritos, California (PRWEB) May 05, 2015
Auto Insurance Specialists (AIS), a leading national independent agency for auto insurance, homeowners insurance, and other insurance products, was named Preferred Agency of the Year by the BIG Independent Group, an association of independent insurance producers and carriers.
The Biggie awards reward excellence in the independent agency channel. AIS took the Preferred Agency of the Year honor for the second time in three years at the 2015 BIG Convention in Riverside, California.
"It's an honor to receive this award. AIS works very hard to develop best practices and training to better serve our customers, said George Kalamaras, vice president of business development for AIS, who was on hand to accept the award. "This award validates these efforts and makes AIS a good model for the industry."
"BIG is happy to give this award to Auto Insurance Specialists," said Jon Spaugy, CEO of BIG Independent Group. "Strong independent agencies, like AIS, are a vital part of the insurance industry and an important resource for consumers."
AIS began selling auto insurance policies in California in 1968. Today, AIS sells and services auto, home and other personal lines insurance nationwide. AIS was one of the first agencies to offer online comparison shopping for auto and home insurance on a national basis and continues to be a leader in providing customers the best shopping experience. AIS partners with high-profile insurers, like Mercury, Progressive, Esurance, Travelers, Safeco, The Hartford, MetLife and many more.
ABOUT BIG INDEPENDENT GROUP:
BIG Independent Group's mission is to offer industry related education, create networking opportunities, and to act as a national voice for all participants within the Insurance Industry. BIG aims to create an environment around sharing information, discovering new ideas for streamlining current processes, increasing productivity through new technology, understanding new legislation, and benefiting from our experiences as an industry rather than an individual.
ABOUT AIS:
Auto Insurance Specialists, more commonly known as AIS, has been providing insurance coverage to customers for almost 50 years. Based in Cerritos, California, AIS is an independently operated insurance agency subsidiary of Mercury Insurance. AIS offers consumers a comparison shopping experience on a wide variety of insurance types, including auto, homeowner, renters, motorcycle, recreational vehicles, business insurance and more. For more information, visit http://www.aisinsurance.com
In Calif., AIS is Auto Insurance Specialists LLC | CA Insurance Lic 0524784; Outside of Calif., AIS is PoliSeek AIS Insurance Solutions, Inc | CA Insurance Lic 0F51713 DBA AIS Auto Insurance Specialists Agency