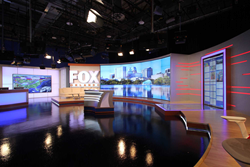 When WOFL said they wanted innovation, they actually meant it and we were all able to reimagine the set of the future together.
Ocoee, FL (PRWEB) April 30, 2015
Fox35 News in Orlando had many goals to meet in designing a set of the future with FX Design Group. Not only did they want the latest technology, but also something that Orlando hadn't seen before. They wanted to give viewers a better experience providing more information, more perspective and better storytelling. The FX set gave them the best storytelling tool to do just that.
The set features massive curved walls with color changing ribbons. Expansive walls in other portions of the set are color changing as well. There is a 5x7 46" monitor array, which is the largest that FX Design Group has ever included in a set.
The breakout piece showcases 4 - 40" touch screens with ergonomic keyboard arms for assignment desks. These interactive desks, which face the set, lend not only to the urgency of the fast-paced Fox35 News, but speak for collaboration and communication beyond the average assignment desk. This is a bit reminiscent of the Shepard Smith Fox News desk. In keeping with the FOX audience, WOFL had FX design an L-Shaped, built-in/walk-on social media desk, which is exclusive to FX Design Group. Talent interaction with social media is now showcased in this Twitter Deck, that is 2 x 4 55" monitors.
Technology shines in every aspect of the new studio, such as unique, mobile anchor desks, which are illuminated solely on battery power. With a wide open floor space, this takes away all cables that inhibit camera movement or obscure the clean look of the floor. The floor itself is quite a big part of the set. The designer, Rachel Bulgrin, working with Benjamin Moore Paint, envisioned a gorgeous blue epoxy floor that reflects the illuminated set. A glowing ribbon on the base of all platforms, pops the set right off the floor.
Good Day Orlando is a key piece of the set that FX designed a short time ago. The new design incorporated and echoed that set as well. In keeping with the multipurpose mobile desks, 3 of them can be used independently or combined to create a round-table interview stage.
"Some clients say they want an innovative or out-of-the-box set design," said Mack McLaughlin, CEO and Creative Director at FX Design Group. "WOFL actually meant it and we were all able to reimagine the set of the future together."
# # #
About FX DESIGN GROUP:
FX Design Group is a design company delivering projects worldwide in broadcast for News, Talk Shows, Lifestyle, Sports and Entertainment programming. FX gives clients access to a complete compliment of set design, virtual design, motion graphic design and branding, fabrication and installation services, as well as lighting design and lighting gear – all from one source. The FX collaborative process focuses on creative synergy, versatility and logistical efficiencies to maximize clients' budgets, aesthetics and multi-functionality. To learn more about FX Design Group please visit http://www.fxgroup.tv.