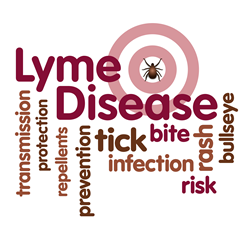 If you demonstrate any symptoms related to Lyme disease, it's important to seek medical care before the disease progresses
Brookfield, CT (PRWEB) May 05, 2015
Lyme disease, a serious infection that can result in long-term disability, affects over 25,000 Americans each year. Unfortunately, many people don't realize they've acquired the infection until it has progressed and manifests with its well-known symptoms. To help patients recognize and avoid potential problems, PhysicianOne Urgent Care is raising awareness about Lyme disease causes, signs, tests and treatment.
While most people are aware of Lyme disease, few understand its potential impact. In the short-term, the infection can cause a myriad of unpleasant symptoms, including rash, chills, fever, fatigue, headache, stiff neck, muscle and joint aches. In the long-term, however, the disease can result in more serious effects, including nerve pain, numbness, paralysis, muscle weakness, chest pains, heart palpitations, shortness of breath, lightheadedness, fainting, joint pain, swelling, speech problems, and memory or cognitive issues.
According to Dr. Jeannie Kenkare, Chief Medical Officer of PhysicianOne Urgent Care, people can avoid contracting Lyme disease by understanding how it's spread.
"Since it's caused by tick bites, Lyme disease tends to be more prevalent in wooded areas," said Dr. Kenkare. "With that said, you can also get it in your own backyard. To reduce your risk, create a tick-safe zone around your house by keeping your lawn well-trimmed and free of leaf litter and branches. You can also create physical barriers to prevent wildlife such as deer from entering your property. If you do enter the woods, wear light colored clothing that covers your arms, legs and head to prevent ticks from getting onto your body. In addition, you can also apply an insect repellent containing a minimum of 10 percent DEET. After leaving the woods, perform full body tick checks to remove any ticks which might be crawling on your body or clothing."
Unfortunately, sometimes even the most careful precautions aren't able to prevent a tick bite, and furthermore, not all tick bites are noticed. Therefore, if you show any signs of Lyme disease, it is important to seek medical treatment.
"While not all tick bites will lead to Lyme disease, many will," said Dr. Kenkare. "If you demonstrate any symptoms related to Lyme disease, it's important to seek medical care before the disease progresses. The providers at PhysicianOne Urgent Care will evaluate tick bites, safely remove attached ticks, and draw blood work if necessary to evaluate for Lyme disease. Early intervention will help prevent the long-term side effects related to Lyme disease."
In addition to Lyme disease, ticks have the potential to transmit other illnesses as well, including Ehrlichiosis, Babesiosis, Rocky Mountain Spotted Fever, and a rare but dangerous pathogen dubbed the Powassan (POW) virus. These illnesses often present with similar symptoms including fever, fatigue, headache, nausea, and vomiting and require medical attention.
About PhysicianOne Urgent Care
Established in 2008, PhysicianOne Urgent Care is doctor owned and operated. As the first urgent care clinic in Connecticut to be accredited and certified by the Urgent Care Association of America, and accredited by The Joint Commission, PhysicianOne Urgent Care takes great pride in its practice of evidence based medicine; its patient first philosophy; providing a cost effective alternative to the Emergency Room; and being a convenient alternative to primary care physicians during off or peak hours. PhysicianOne Urgent Care provides walk-in treatment for a wide array of illnesses and injuries. On-site services include x-ray, lab services, and a medication dispensary.
All locations are open 365 days a year. Experienced providers are on-site at all times. Most insurances and Medicaid accepted. For more information, please visit http://www.PhysicianOneUrgentCare.com.