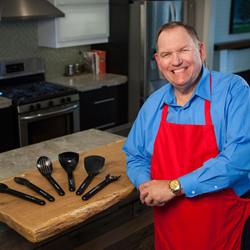 Do you remember when you were a little kid and your mother would hand you the bowl and spoon so you could eat the extra cookie dough. It would take a thousand swipes to clean that bowl. This spoon is that little kid's dream.
Nashville, TN (PRWEB) April 30, 2015
Some of the best ideas waited decades before someone with enough nerve and ingenuity took the plunge. Colonel Sanders, for example, was broke at 65 and had to beg for a small restaurant to try out his chicken recipe. Saucepan Chef creator Ellis Regini, has likewise dived into the pool, ready to prove the American dream is still alive. He's spent years designing a set of heat-resistant kitchen utensils that are angled differently, making cooking easier.
"It was frustration, literally through decades, of trying to cook food, thinking this could be done better."
Ellis's life changed in 2012 when he sat down on a plane and discovered the passenger next to him helped entrepreneurs launch their own business. Ellis shared his ideas on how kitchen utensils could be changed to better match the way we cook. Initially the man didn't think his inventions would have traction, but ended up apologizing over the phone when he went home and discovered his wife would snap up such utensils.
That encounter led to Ellis and his wife spending the next two years re-designing kitchen utensils. The result are one-of-a-kind tools that aren't going to melt over open flames or discolor in the dishwasher. Hamburgers can finally be pressed down with a spatula angled for the job. Cooks needn't worry about melting or scorching them; they're designed to last as long as the kitchen.
Prior to this month, the set was only available as a unit, but for the first time, Saucepan Chef tools are available for individual purchase.
To learn more about the product, you can visit http://www.saucepanchef.com. To book Ellis to give a full demonstrate of what his utensils can really do, or to request product samples for review, contact Jessica at River Birch Industries.
615.499.2071 / jessica(at)riverbirchindustries(dot)com.