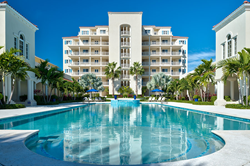 The Venetian on Grace Bay - #2 resort out of 45 resorts on the island of Providenciales by TripAdvisor.
Providenciales, Turks and Caicos Islands, BWI (PRWEB) May 02, 2015
The Venetian on Grace Bay has a new website! It is http://www.thevenetiangracebay.com, and it is elegant and sophisticated, like the resort itself, and it incorporates the stunning white and attractive turquoise hues of Grace Bay Beach.
"According to a study of Google, sixty seven percent of leisure travelers used their smartphones throughout the travel process. The study showed that smartphones were used in the planning and researching and continued through on-line booking," said resort manager, Terria Misick. "By launching a beautiful new website that is designed specifically for mobile devices, we are making it easier for Venetian resort visitors to plan and enjoy their stay on beautiful Grace Bay Beach. We also are excited to launch our virtual tours of the resort."
The launch of the new web presence came after The Venetian on Grace Bay was voted #1 out of the 45 hotels in Providenciales, by TripAdvisor, during the Christmas/New Years Holiday season.
Every 4th and 7th Nites Complimentary at The Venetian on Grace Bay:
To celebrate the launch of the website, The Venetian is offering their guests who stay between May 1 and August 31st every fourth and seventh night free on one, two, or three bedroom oceanfront suites.
The spacious and immaculate units feature a gourmet kitchen, laundry facilities, and an oceanfront screened patio or balcony offering amazing views of Grace Bay Beach. Bottles of chilled water - a Venetian touch - are available for guests on the beach.
Guests at The Venetian can enjoy their private stretch of beach yet are still within five minutes to anything they would like to do on the island.
For more information, call toll free 1-877-277-4793 or 1-866-242-0969.
About The Venetian on Grace Bay:
Elegant and sophisticated, The Venetian on Grace Bay offers luxury, five-star service and privacy, serenity and a peaceful stay. Located on an intimate stretch of Grace Bay Beach, The Venetian on Grace Bay offers the ultimate in seclusion and relaxation at a Turks and Caicos luxury hotel.
For more information on summer specials, contact Terria Misick, resort manager, at 649-941-3512, 1-866-242-0969 or 1-877-277-4793. or go to http://www.thevenetiangracebay.com