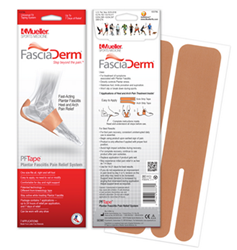 fast acting heel pain relief, is now as close as your local pharmacy.
Houston, TX (PRWEB) June 01, 2015
Plantar fasciitis (PF) often produces excruciating pain in the heel or arch. The condition is often described to feel like stepping on a small sharp stone, particularly upon first standing in the morning. The condition afflicts millions of people per year, and is often referred to as "heel spur syndrome". Plantar fasciitis can afflict anyone, but those participating in sudden increases in activity (such as walk-a-thons, jogging or participating in athletics) can often find themselves waking to face morning heel pain.
The recent issued patent number 8,968,229 (229) covers a method of supporting a foot with a pre-cut, two-part, ultra-strong, micro-thin adhesively applied wrap. The patent also teaches of the benefits of supporting and/or protecting the foot, (particularly the plantar fascia) near 24/7 while the fascia is attempting to recover. It is the inventor's belief that supporting (i.e.protecting) the plantar fascia in a direct manner and near 24/7 is key to achieving rapid and drug-free pain relief.
The only product licensed to be sold under this recent patent (229) is FasciaDerm® PFTape(TM), by Mueller Sports Medicine (MSM). This product is intended to be used daily during the period of foot pain recovery to provide a level of direct support to the foot. Each package contains enough product for seven daily applications. Initial benefits should be evident within the first few days of use (if not sooner), however the package advises use for a period of 14-21 days, to achieve best results. Priced often at under $20 a package, the product represents a competitively priced pain relief option to those suffering from plantar fasciitis related heel or arch pain. This approach is perfect as a conservative over-the-counter first response for those seeking heel pain relief or as a last resort by those who have tried everything else.
According to Don Bushby, inventor of the original FasciaDerm® product, "This approach has brought long sought heel pain relief to many, some of which were initially intrigued by its simplicity, and even more were surprised by the level of pain relief it provides."
Mueller Sports Medicine is making the FasciaDerm® PFTape (TM) available through a growing number retail locations across the United States. In Texas, the product can be found in the foot care section of H-E-B Grocery Stores. Pain sufferers in other parts of the country can ask for it at other fine retailers. Look for the new red and white package in foot care or the supports and braces section of your local pharmacy. FasciaDerm® PFTape System(TM) is also available worldwide at U.S. military bases via the commissary system.
For more information or interview request contact Don Bushby at DBushby(at)FasciaDerm(dot)com. For those seeking retail opportunities contact Mueller Sports Medicine. The FasciaDerm® PFTape System (TM) proudly carries the "Made in USA" label. PFTape (TM) is a trademark of Mueller Sports Medicine.
Patent (229) joins a long list of other patents covering FasciaDerm® (see U.S. Pat. Nos. 8,814,818 8,216,162 8,414,511 8,834,398 8,834,397 and D691276).
Applied BioKinetics LLC is committed to developing innovative, conservative solutions to human ailments through engineering, applied science and practical thinking. Permission granted for reposting of this article on social media.