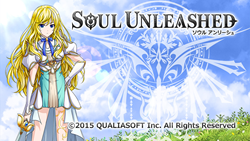 Osaka, Japan (PRWEB) May 01, 2015
Rekindle an adult's lost sense of adventure with this revolutionary new smartphone game.
In a world where RPGs decide the player's destiny, Soul Unleashed allows the player to take it all into their own hands. With a fully customizable character, each decision, conversation and action taken will lead the player down a different path. Explore the village, talk to the characters, receive quests, and create a unique adventure in a world of magic and combat.
Define Your Own Destiny
Embark on adventures that are triggered by the player's actions and explore abandoned caves, mysterious forests and dark secrets as the player searches for treasure, beats monsters and finds their own destiny.
Explore the beginning of this fascinating RPG world through the lite version, which goes go up to level 5 and features about 10% of the story. Then take the adventure further with the full version.
Enjoy the unique world of Soul Unleashed:
The New Genre of "Adventure RPG"
This new genre of Fantasy RPG draws inspiration from the PC games of the '80s where the table-based RPG and TCGs defined gaming. Now in the smartphone era, this style of gaming has been revolutionized into a new genre.
Creating Your Own Character - Over 50,000 Different Combinations Possible
Gender, height, skin, hair, eyes, the appearance of your own character can have over 50,000 different combinations. In addition to this, attacks can also be customized from 7 different systems with 160 different varieties.
Once-in-a-Lifetime Meetings with "Random Matching"
The team will be randomly generated within the game, but these aren't just NPCs from the system, but instead other player's unique characters. With this uniquely generated team, face the risks of adventure together in this exciting RPG. With each different combination of characters, experience unique and different outcomes to each adventure taken.
Application Name: Soul Unleashed
Release Date: April 28, 2015
Price: Free (lite) / $4.99 (full)
Download link: http://qualiasoft.co.jp/soun_en_dl/
Website: http://qualiasoft.co.jp/soun_en/
Compatibility: iPhone, iPad, Android (iOS 7.0 onwards, Android OS 4.0 onwards)
Development/Sales: QualiSoft (http://qualiasoft.co.jp/)