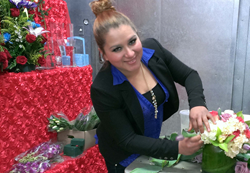 "She told me she had a dream that we'll have our own flower store and we'll work together in it. Little Mireya's dream came true; we work together every weekend."
Los Angeles, CA (PRWEB) April 30, 2015
Mother's Day is the biggest flower holiday of the year for California Flower Mall wholesale and discount flower petalers like Mom entrepreneur Mireya Perez Gonzalez who'll stay open 24/7 Mother's Day weekend so bargain hunters can save up to 70% off retail prices on Mother's Day flowers gifts. "More than two-thirds (67.2%) of those celebrating will buy flowers, to the tune of $2.4 billion," according to the National Retail Federation Mother's Day 2015 Consumer Spending Survey.
Preparing to open 24/7 Mother's Day weekend is a 10 day sleep deprived marathon for Gonzalez, a single mother of two and owner of Mireya's Flowers. Gonzalez was recently interviewed by Telemundo 52 TV reporter Sandra Bonilla for a story on the upsurge of Latina women entrepreneurs to watch and learn from.
Gonzales, a formally trained floral designer, regularly works in and on her business 12 hours a day seven days a week. Opening later evening hours the week before Mother's Day and around the clock Mother's Day weekend is a test of dedication for Gonzalez and fellow California Flower Mall business owners – even if their sweat equity results in a big bottom line boost.
"It's really hard, some days there is only time to brush my girl's hair and kiss them goodbye before heading to work at 4 a.m." Gonzales says. Her nine year old daughter inspired her to start her business. "She told me she had a dream that we'll have our own flower store and we'll work together in it. Little Mireya's dream came true; we work together every weekend," she adds.
Gonzalez is part of a surging trend of female entrepreneurs balancing business ownership and motherhood. According to research from America Express OPEN State of Women-owned Businesses Report,women are starting an average of 1,200 businesses a day – up from 740 a day the year prior. The growth of women-owned firms continues to outpace the national average, plus they now lead growth in eight of the top 13 industries. The report also shows the influence of companies owned by women of color, which now account for one-third of all women-owned businesses in the United States.
Inspired by artist Frida Kahlo who endured pain and hardship on her path to artistic success, Gonzalez shares these tips for other mothers starting out in business:
1. Believe in yourself – Create self-confidence by looking and feeling beautiful
2. Be organized – Take things home to work on, shop several sources for the lowest priced supplies, create systems
3. Network - Talk about your business everywhere, deliver samples to the bank, the hairstylist and parties with friends
4. Women are worthy, capable business owners - We need to know our own value and not be discouraged by male "machismo"
5. Start Slowly – Don't expand the business too quickly
About California Flower Mall
The California Flower Mall, located at 825 San Pedro Street, is one of the largest DIY wholesale flower marts in the eight block Downtown LA Flower District trade community -- the largest concentration of wholesale flower markets and flower businesses in the U.S. It is located in the LA Fashion District Business Improvement District.