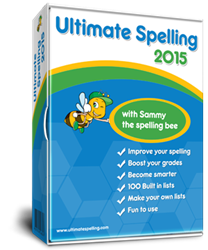 ...improved spelling leads to better vocabulary mastery and usage.
New York City, NY (PRWEB) May 03, 2015
eReflect developer of Ultimate Spelling™, a program for improving spelling skills in children and adults, reports the publication of the spelling website's latest blog post: "Like, What is the Deal With the Word Like?". The Ultimate Spelling™ editor looks into linguistic research by Alexandra D'Arcy and opens a discussion designed to help readers understand why the word is so prevalent in people's language, especially those in younger demographics.
According to Ultimate Spelling™ and D'Arcy, the word "like" is more of a wild card; it can replace other adverbs, indicate citation of what another person has said, or to introduce an estimation of a quantity the speaker is not entirely sure of.
A person not wanting to misinform or mislead their interlocutor can express this error margin with "like." The phrase "I've been living in Beijing for like 4 years now," is a good example of this technique, the Ultimate Spelling editor explains.
One of the most common uses of the word "like" is to introduce the words of someone else in a conversation, editor of the improve spelling software says. This nuanced use of the word "like" helps the speaker introduce not just what was said but also how it was said, making the information given richer and more complete.
As the Ultimate Spelling™ editor notes, the word "like" is a non-intimidating, friendly way to introduce a new conversational topic or carry on with a previous thought. It is often used in the beginning of a sentence to begin a new thought or start a conversation. In this case, the word "like" is something called a "discourse marker" in linguistic terms.
eReflect wants to help people learn how to spell with Ultimate Spelling™ and hopes that improved spelling leads to better vocabulary mastery and usage. The company urges young people to use the word "like" less when its role is simply a sentence filler. Being more accurate and solid in conversational skills is something that people young and old can benefit from time and time again, both in professional careers and social contexts.
***********
For more information about how Ultimate Spelling software can improve spelling performance for you and your family, please visit the official website at http://www.ultimatespelling.com.
About Ultimate Spelling™
Ultimate Spelling provides a modern and easy to use spelling software that has been designed with one goal in mind – making children want to learn.
It is a fast and easy way to master even the most complicated spelling, without the need to write long lists or complete boring tests.
In fact, Ultimate Spelling provides more than just spelling help. It is a complete educational resource that boosts all level of a child's literacy.
Containing a personal computer tutor, Ultimate Spelling is the most realistic step-by-step guide to flawless spelling ability.