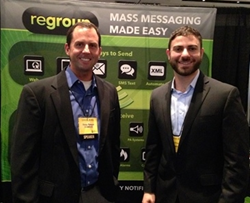 San Francisco, California (PRWEB) April 30, 2015
The leader of mass notification solutions, Regroup, and Comevo LLC, a leading provider of technology-based support service tools have forged a strategic partnership to provide next-generation student orientation services that can support Student Success and Support Program (SSSP) initiatives for new and transfer students
"Partnering with Comevo just made sense," said Joe DiPasquale, CEO of Regroup. "Regroup has strong ties within California's higher-education community and we're very excited to now offer our community college districts an effective tool for meeting SSSP funding requirements: a text messaging solution that will fully integrate with their Comevo student orientation software."
California Community College Districts are eligible for SSSP funding to fully implement core services: orientation, assessment, counseling, advising, and other education planning services needed to assist students in making informed decisions about their education goals and courses of study.
"The Comevo/Regroup partnership will allow California Community Colleges, as well as other colleges and universities in the state, the opportunity to extend their recruitment efforts through the orientation stage and maximize registration and enrollment to those students who may be on the fence about their decision to attend the schools," said Comevo Director of Business Development, Doug Sawyer. "Comevo's reporting can reveal potential at-risk students for enrollment as indicated by lack of completion of the online orientation modules. This process combined with Regroup's automated mass communication will allow schools to encourage the right students, at the right time, in the right way, to continue with the process and fulfill their educational goals."
Doug Sawyer added, "Comevo is excited to offer our higher education clients a new tool that enhances communication with students and boosts recruitment efforts. Regroup has made this vision a reality and Comevo is excited to see where this partnership will lead for both companies."
For a live demo of Regroup's Emergency & Mass Notification System, sign up here: http://bit.ly/1J8TCLW
About Regroup:
Regroup, the leading provider of Emergency and Mass Notification solutions and DRI 2015 Notification System of the Year, offers easy one-click messaging to mobile phones (text/voice), landlines, email, social media, websites and more. Regroup stands apart from other mass communication systems with its ease of use, automated messaging capabilities, seamless integration with client databases and other third-party systems, unparalleled 24/7 customer support and unlimited text/voice/email messaging.
To learn more about how Regroup's Emergency Notification System can provide rapid communications during a crisis, as well as streamline day-to-day communications, call 917-746-6776 or email inquiries[at]regroup[dot]com.
About Comevo LLC:
Comevo LLC is the leading provider of online orientation to over 100 colleges and universities throughout North America. @school Online Orientation™ is a cloud hosted software service with engaging multimedia, 24/7 accessibility, consistent delivery, fast deployment, and monitored results. For more information contact Doug Sawyer at 800-748-0975.