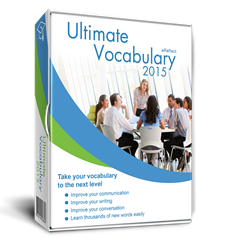 ...helps people improve their communication skills by enriching their lexicon with new words.
New York City, NY (PRWEB) May 04, 2015
Vocabulary builder Ultimate Vocabulary™ offers an examination of the emotional impact of punctuation marks in the English language, and how these predispose writers and readers to different interpretation of these messages, eReflect announces.
Ultimate Vocabulary™ helps people improve their communication skills by enriching their lexicon with new words. Recently, the vocabulary program offered an analysis of the impact of punctuation on how messages are understood in written language. As the Ultimate Vocabulary™ editor explains:
"Words are not the only things that carry emotion, state of mind, and mood. . . .[O]n many occasions, punctuation marks can actually cancel out the very meaning a word might denote. For instance, consider how the statement "I'm fine" is often interpreted to mean that the person is not happy, and not fine at all... Used in this way, the period cancels out the very meaning of the sentence."
In a playful post, Ultimate Vocabulary™ asserts that the full stop comes across as serious and lacking a sense of humor while the exclamation mark is more friendly, amiable and fun to be around. The Ultimate Vocabulary editor says of the exclamation mark:
"[T]hese days it's more often used in a sentence to indicate the sender is positive, warm, and even more sincere. It shows an excitement and benevolence that the angry, grumpy period conspicuously lacks.''
The ellipsis is characterized as capricious and rather unpredictable as it is often used and abused in digital communication beyond its intended meaning. While it is used to signify some text has been omitted, in digital contexts it is more often than not used as an innuendo, a statement, or an invitation to engage in more conversation, since the message is ambivalent at best.
eReflect is the vocabulary program designer with a goal of helping people increase vocabulary competency and communication skills in general. The company encourages learners of English to take into account the role of punctuation in their writing, as it is a robust, direct way to enrich writing and to offer information without even using words.
***********
For more information on how you can benefit from Ultimate Vocabulary, please visit its official website, http://www.ultimatevocabulary.com.
About Ultimate Vocabulary™
Ultimate Vocabulary provides a proven and powerful platform, built to improve anyone's vocabulary.
The interactive self-improvement system provides more learning tools than any other program on the market, as well as more information on words.
The Ultimate Vocabulary software provides each and every user with a personal computer tutor. Providing a step-by-step guide to learning a powerful vocabulary, Ultimate Vocabulary is the learning tool everyone can benefit from.
Of course, the software is also backed by eReflect's iron-clad money back guarantee.