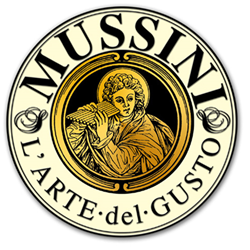 Youngstown, OH (PRWEB) May 08, 2015
Online Italian food specialist, Gourmet Italian, is pleased to announce the availability of a wide range of additional Mussini vinegars at GourmetItalian.com.
Mussini crafts their products using proven, traditional techniques to make high quality balsamic vinegar, wine vinegar, and more. Their premier balsamic vinegar is I. G.P. (Indicazione Geografica Protetta, or Protected Geographical Indication) certified. Any product carrying this designation from the European Union confirms it was made according to traditional processing methods that ensure quality.
Balsamic vinegar is produced from sweet Italian vinegar and stored in wooden barrels until matured. Flavor options offered at Gourmet Italian include:

Mussini I.G.P. 3 Year 1 Coin Balsamic Vinegar
Mussini I.G.P. 2 Year Balsamic Vinegar
Mussini Tomato Flavored Balsamic Vinegar
Mussini Apricot Flavored Balsamic Vinegar
Mussini Passion Fruit Flavored Balsamic Vinegar
Mussini Lemon Flavored Balsamic Vinegar
Mussini Bittersweet White 4 Year Balsamic Vinegar
Wine vinegar is produced from wine instead of malt and is preferred for deglazing pans, marinating meats, pickling, sauces, and more. Flavor options include:
Mussini Mango Wine Vinegar
Mussini Passion Fruit Wine Vinegar
Mussini Fig and Date Wine Vinegar
Mussini Blood Orange Wine Vinegar
Glazes, also known as balsamic reductions, offer additional flavor opportunities for creating dips and marinades, or to pour directly over foods. The Gourmet Italian online foodstore has added the following products to their inventory:
Mussini Chili Pepper Glaze
Mussini Ginger Glaze
Mussini Lemon Glaze
Mussini Strawberry Glaze
Mussini Raspberry Glaze
Gourmet Italian is pleased to be able to offer the expanded line of Mussini vinegar products for their versatility and quality.
"Mussini is a very respected name in Italian foods," says Gourmet Italian owner and operator, Brandon. "The beauty of flavored balsamic vinegar, wine vinegar, and glazes is their simplicity in putting together a quick and tasty meal, as well as the opportunity to combine products to produce new flavor profiles. The ability to create something new is as simple as adding a new flavored vinegar to an old favorite recipe."
The complete line of Mussini products can be purchased on the Gourmet Italian website.
Wholesale Food Network LLC operates out of Youngstown, Ohio, and has been doing business under the "Gourmet Italian" name since January 2009. For more information on any of their products, please visit the Gourmet Italian food store website.