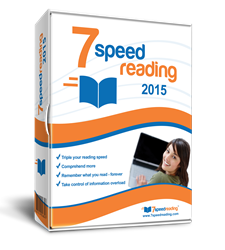 Speed reading programs help people become better, faster readers.
New York City, NY (PRWEB) May 05, 2015
7 Speed Reading™ designer eReflect shares a new post on the significance of making mistakes and being open to criticism and feedback. eReflect asserts that understanding and accepting others' feedback is one way people can move forward, learn something new, and improve on what they've previously achieved or were capable of.
In the post titled "What's so good about making mistakes?", the 7 Speed Reading™ editor says that while success is what everyone's ultimately after, failure is crucial too, as it reminds people to never get complacent but to keep trying to achieve new and more things.
For people who believe they cannot possibly be reading faster, the key is to understand that mistakes or wrong reading habits can be remedied by being open to new challenges and new learning opportunities. Speed reading programs help people become better, faster readers. However, unless a person realizes they can use an improvement, they won't be able to move on. eReflect's editor notes:
"Failure is not a cul-de-sac but an open road. You can see failure as the A/B testing of what works and what doesn't, but never a reason to give up."
It is crucial that people realize that failure is not a reminder of inadequacies or mistakes but rather a wake-up call on to identify the next step that's needed in order to advance, grow and prosper.
7 Speed Reading™ proposes that its readers embrace their mistakes and keep track of them, not hang on to them as a way of making themselves self-conscious. Using this knowledge provides a better understanding of any patterns as to when and why such mistakes tend to happen. Whether it is stress, lack of skills, or lack of time, by knowing the things that trigger these mistakes, people are more likely to prevent them in the future.
As a final remark, the eReflect editor explains that those making mistakes are the lucky ones. They're lucky because they get to know their weaknesses and themselves better than those succeeding at once.
************
For more information about the benefits of using 7 Speed Reading, please visit the official website at http://www.7speedreading.com.
About 7 Speed Reading™
7 Speed Reading is the only modern speed reading software that uses the latest technology to produce superior results.
The software provides its users with a new way to master speed reading that guarantees three times the reading speed along with improved memory and comprehension.
The software is poised as the most comprehensive speed reading system anywhere. It contains seven learning strategies, fifteen software activities, video training, advanced tracking capabilities and many more exciting features.