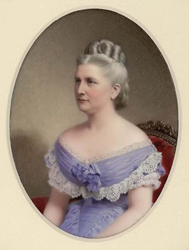 Harriet Lane Johnston, an amazing women in any age, stands at the forefront of American women and in the company of noted first ladies as Abigail Adams, Eleanor Roosevelt and Jacqueline Kennedy.
Mercersburg PA (PRWEB) April 30, 2015
On June 10, 2015, the Franklin County Visitors Bureau joins Mercersburg Historical Society to honor Harriet Lane Johnston, who served as First Lady during her uncle James Buchanan's presidency, with a symposium to celebrate her life and work. Harriet Lane Johnston was President James Buchanan's niece and served as the "First Lady" for her bachelor uncle during his presidency from 1857 to 1861. The symposium is being held in Mercersburg PA, the birthplace of Harriet Lane and the boyhood home of her uncle James Buchanan. The June event held in the Edwards Room of Kiel Hall correlates to Harriet Lane Johnston's last visit to Mercersburg, which was for the dedication of her uncle's portrait by American artist William Merritt Chase on June 4, 1901. The portrait was presented to the Mercersburg Academy in a ceremony in Keil Hall, then the newest building on the campus of Mercersburg Academy, where it still hangs today. It was Harriet Lane's last visit to birth home before her death on July 3, 1903.
Harriet Lane's position as her uncle's First Lady in his presidency from 1857 to 1861 afforded her a special opportunity for a woman of the era, exposing her to life in government and politics both nationally and abroad. She was the person closest to James Buchanan throughout his life. He introduced his niece, at a young age, to a world women of her day rarely had access. She was his confidante, both in his political life and his personal life. Harriet Lane Johnston, an amazing women in any age, stands at the forefront of American women and in the company of noted first ladies as Abigail Adams, Eleanor Roosevelt and Jacqueline Kennedy.
Among Harriet Lane's lifetime recognitions and contributions are:

The Harriet Lane Handbook, a definitive pediatric medical handbook, named for Harriet Lane, who bequeathed $400,000 to construct a home for invalid children as a memorial to her two sons that died in childhood. Today, she is remembered through the Harriet Lane Clinic.
Three United State coast Guard cutters have been named in Harriet Lane's honor.
Influencing through a bequest in her will the creation of a national art gallery, which has evolved to today's Smithsonian American Art Museum.
Bequests to construct two memorials to her uncle President James Buchanan.
It is fitting that people in the twenty-first century pay tribute to this remarkable lady who by her graciousness, her dignity, and her generosity was an exemplar in her time and deserves to be an exemplar in the present time and whose name lives on.
The Harriet Lane Symposium includes presentations by Joan McCulloh, Mercersburg historian, giving "Harriet Lanes Mercersburg Roots;" Douglas Smith, archivist of Mercersburg Academy, giving "The Final Visit of Harriet Lane Johnston to Mercersburg-June 4, 1901;" Jane Rissler, Curator of the Jefferson County Museum in Charles Town WV, giving "The Lane Family in Jefferson County;" Jennifer Walton, museum associate for LancasterHistory.org, giving "First Lady of Our Land - Harriet Lane Johnston;" and Mark Wilkerson, archivist of St. Albans School, giving "St. Albans, A School for Harriet's Boys." The symposium offers a rare opportunity to tour the Harriet Lane House in Mercersburg PA, which was included on the National Register of Historic Places in 1972.
Symposium details are available at http://www.DoDineStayFranklinCountyPA.com/Harriet-Lane and registration can be completed on Eventbrite.
The Franklin County Visitors Bureau invites all to explore Franklin County PA and enjoy the trails of history, arts, recreation, natural beauty, fresh foods and the warm hospitality of communities like Chambersburg, Greencastle, Mercersburg, Shippensburg, and Waynesboro. Franklin County PA is located just north of the Mason Dixon Line and is an easy drive to Washington DC, Philadelphia, and Pittsburgh. Discover more....plan a visit soon at ExploreFranklinCountyPA.com or by contacting 866.646.8060.