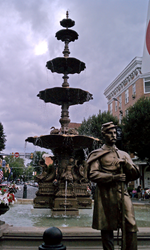 "A Taste of Downtown Chambersburg" is the first of this summer's First Friday celebrations in Franklin County.
Chambersburg PA (PRWEB) April 30, 2015
The Franklin County Visitors Bureau is spotlighting "A Taste of Downtown Chambersburg," the first of this summer's First Friday celebrations, on Friday May 1 from 5-8 pm in downtown Chambersburg, presented by The Downtown Business Council and Council for the Arts of Chambersburg.
While Downtown Chambersburg's businesses and restaurants will feature artists and musicians from 5-8pm, Chambersburg's Memorial Square Fountain will be turned on for the season with a ceremony from 6-6:20 pm. South Main Street will be filled at 6:30 with Women In Need's "Walk a Mile in Her Shoes" participants; registration will begin at 6pm. The Franklin County Photographers Club will roam the streets with impromptu photographers from 5-8pm. The Council for the Arts (159 South Main) will host a meet-the-artists reception for their new show "Contemporary Concepts" featuring the artwork of Erin Gillespie, Lauren Gillespie, Skyler Purvis and Hannah Stephey – as well as an interactive art banner for young artists on the sidewalk in front of the Arts Council.
"Contemporary Concepts: Artworks by Erin Gillespie, Lauren Gillespie, Skyler Purvis and Hannah Stephey" is on display at Chambersburg's Council for the Arts from May 1 – June 12, 159 South Main Street. The show will be on view Tuesday through Friday from 10 am - 2 pm, with a Meet-the-Artists Reception during First Friday May 1, from 5-7 PM.
Erin Gillespie graduated from Shippensburg University in 2010 with a degree in art education. In addition to her Pretty Yolks Jewelry business, she is co-owner of Junk and Disorderly, a shop featured during IceFest in downtown Chambersburg. Erin teaches art at the Boys and Girls Club of Chambersburg. With work in a wide variety of media, she has exhibited at Perry County Council for the Arts, the Emerging Artist Showcase, and several gallery events at Shippensburg University. "My work in this exhibition utilizes a wide variety of antique collage materials including anatomical textbooks, tintype photographs, and botanical illustrations," she says. "I also use geometric shapes and designs to contrast the natural forms found in my collage work. I am inspired by the colors and shapes of the anatomical human form, natural textures, and artifacts from the past that I enjoys hunting for at flea markets and antique shops!"
Lauren Gillespie is a freelance illustrator/cartoonist with a BFA in Communication Design from Kutztown University. She works with ink, watercolor, and cut paper. " I love the versatility of ink and watercolor," she explains, "and the broad range of effects produced with the many different techniques that are possible." Lauren creates complicated and intricate pieces, a technique that attracted her to work with cut paper. "I hope to inspire creativity with my work," she says, "and to transport viewers to faraway lands." Her inspiration is drawn from animation, folklore, and old monster movies.
Skyler Purvis is a sophomore at York College of Pennsylvania with a major in fine arts. In addition to exhibits at the school, his paintings have been displayed at the Mount Gretna School of Art (MGSOA) gallery. "MGSOA became a strong influence on my craft through an intense summer painting course under Jay Noble," Skyler explains. "There, I spent every day painting the landscape until I had learned enough oil painting techniques to gather a sense of how to work effectively with oils. I also enjoy creating sculptural forms, with ceramics being my primary emphasis. When I sculpt, I tend to work around the human form, which serves as my usual subject in paintings as well." Skyler's "Too much for nothing" series of portraits depicting people in a state of anxiety and stress over an important task. "I want 'Too much for nothing' to raise the question of what we all do that either yields a meager reward or even a result that wouldn't be worth the amount of effort," he explains.
Hannah Stephey is an illustrator whose passion is children's book art and developing characters. She earned a BFA in graphic design with a minor in writing from Kutztown University, and was nominated for the Donald Breter Excellence in Illustration award of 2014. Hannah's work has been featured at C & C Coffee in Chambersburg as well as Chambersburg's First Fridays. She recently had a comic strip published in World-Eats Digest based out of New York City, creates several monthly comic strips for Wilson College, and is a judge for this year's Franklin County Has Talent. She has also recently illustrated Jim Malloy's children's book The Look Cookers, available this spring. Hannah teaches comic book illustration and cartooning classes at Council for the Arts and does freelance work from her home studio, hellojelly Press, where she is in the process of launching a greeting card line. "My 'Portraits of Rabbits Drinking Tea' series is a collection of illustrative expressions of indulgence," Hannah explains. "I dip or brush cold press paper in tea, and the shapes that emerge from the stains dictate the direction of each piece. Each image is born of impressions that the tea leaves on the paper!"
First Friday artists include: photographer Kaitlin Shadle at Olympia Candy Kitchen; Carrie Dietrich, with fanciful pen & ink drawings at the Gift Enclosure, Dee Henry, with oil paintings at Lyons Menswear; Marti Yeager, with oils and watercolors at Here's Lookin' at you; Uyen Tran, crocheted crafts at Merle Norman; Alicia Boss, demonstrating her drawing and painting techniques at Lotus Moon Gallery; photography by Cassie Schook at C&C Coffee; Bistro 17 with Beck Metzbower's painting created specially for the restaurant's interior; Laura Remchuck, glass art at Main Street Deli; and Luke Oyler, drawings and collages at Boost Mobile.
The Franklin County Visitors Bureau invites all to explore Franklin County PA and enjoy the trails of history, arts, recreation, natural beauty, fresh foods and the warm hospitality of communities like Chambersburg, Greencastle, Mercersburg, Shippensburg, and Waynesboro. Franklin County PA is located just north of the Mason Dixon Line and is an easy drive to Washington DC, Philadelphia, and Pittsburgh. Discover more....plan a visit soon at ExploreFranklinCountyPA.com or by contacting 866.646.8060.