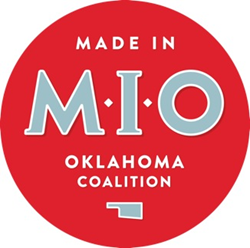 Restaurant of the Year is a great way to showcase our partner restaurants and the dedication they make to the Made in Oklahoma Coalition
Oklahoma City, OK (PRWEB) April 30, 2015
Officials with the Made in Oklahoma Coalition (MIO) have announced the 2014 Restaurant of the Year winner. The fan-based poll came to a close recently, with nearly 9,000 votes from fans via Facebook and the MIO Coalition website. The restaurants for Restaurant of the Year were determined by their commitment to carry and use MIO Coalition products in their restaurants and recipes. The winner for the inaugural Made in Oklahoma Coalition Restaurant of the Year is Cheever's Café in Oklahoma City.
Kerry Barrick, Marketing Director of the MIO Coalition said that the first year for the Restaurant of the Year award was a success.
"We're always looking for new ways to create awareness about the Coalition, along with our members and restaurants," Barrick said. "Restaurant of the Year is a great way to showcase our partner restaurants and the dedication they make to the Made in Oklahoma Coalition. With nearly 9,000 votes for the inaugural year, I'd say it's a success."
Cheever's Cafe opened in Oklahoma City in 2000, and is owned by Heather and Keith Paul of A Good Egg Dining Group.
"We have always wanted Cheever's Cafe to be known as a great neighborhood restaurant with timeless character and genuine hospitality serving fantastic food," said Keith Paul. "We have always tried to use local food products whenever possible and being a partner with the Made in Oklahoma Coalition has helped us along in that process"
# # #
About Made in Oklahoma Coalition
Providing a marketing and promotional platform to assist more than 45 Oklahoma food manufacturers, the Made in Oklahoma Coalition (MIO) builds brand preference and loyalty for members and its products. The MIO Coalition-member companies create a positive economic impact on the Oklahoma economy by employing more than 28,000 Oklahomans. The member-companies of MIO generate over $4.1 billion in annual sales for the state's economy. The MIO Coalition continues to expand the footprint of Oklahoma's food manufacturing sector through business retention and growth. For more information about MIO and its member companies, please visit http://www.miocoalition.com.
Media Contact:
Krista Bruce | 405-615-1526 | kbruce(at)kochcomm(dot)com