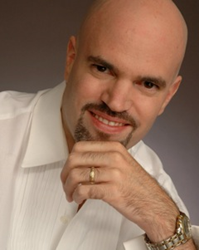 You are invited to dine with me - Don Giovanni says to the statue of the Commendatore
Bound Brook, NJ (PRWEB) May 05, 2015
Eastern Opera of NJ has tapped our cultural heritage shelf to pluck a masterpiece from its slumber and reanimate it for our delight!
For if AMADEUS pleased you
[the play or the movie!]
This production of
DON GIOVANNI!
Will Utterly Astound You!
At Bound Brook's Brook Arts Center!
Sat. & Sun. May 2nd / 3rd and 9th / 10th
Take a horny as hell nobleman; hit him with extra dollops of charm and small talk; then slather the pest with morals that would gag a maggot and you have every fair damsels egg-timered dream come true! That slimiest of villains, Don Giovanni! A role so demanding that—to prevent the strain of singing on adjacent nights—will be played by Ted Dougherty on 5/2 and 5/10, and Jason Adamo on 5/3 and 5/9. But only you can decide which creates the sleazier Don!
Now, every rake worth his salt requires a wingman; and in this case, it's Leporello, a fine fellow superbly played by Basso Buffo, Hyong Sik Jo.
As Giovanni's story is little more than a sequence of seductions and escapes set to some of the finest music ever written, our story begins with one of his escapades with long term consequences.
While Giovanni is at the Commendatore's mansion attempting to seduce the old man's daughter—Donna Anna. (Karole of the fabulous soprano Lewis!)—Leporello is a lookout when all hell breaks loose!
Donna Anna comes rushing out struggling with the masked Giovanni followed by her sword wielding daddy! A duel ensues where Giovanni skewers the old fellow setting up the plot.
More amorous encounters with escapes, both narrow and otherwise, lead to the show's most endearing moments, as when Leporello tries calming the betrayed Donna Elvira—(the stunningly beautiful and enormously talented, Justyna Giermola)—by proving that—being jilted by Giovanni wasn't the worst thing that could happen to a young lady. He does this by reading to her from the don's catalogue of conquests where, in Spain alone, he'd gotten lucky a staggering 1,003 times! [And oh how he loves dawdling on that line!]
Wooing Zerlina, in a touching duet, Giovanni begins, "Give me your hand … " [Là ci darem la mano,] But our dynamic duos escapes eventually lead them to a cemetery where they find a grave marked with the Commendatore's statue. And while Giovanni rattles on about his conquests, the statue begins to speak!
'YOU'LL HAVE YOUR LAST LAUGH BEFORE THE NEXT DAWN!'
This befuddles Giovanni for a moment, but when he finally figures out what spoke, the statue continues, "LEAVE THE DEAD IN PEACE YOU PILE OF CRAP!"
But instead of cowering before this terrifying apparition, our arrogant roué forces his flunky to invite the statue to dinner! And as the shaking / quaking / and otherwise bent out of shape Leporello makes the request, the statue nods in acceptance!
As usual, a bit of revelry is going on at Giovanni's place. But then, Elvira shows up for one last go at persuading him to change his ways. His laughter suggests, "Yeah, like that's gonna' happen"—then!
A POUNDING ON THE DOOR!
A SCREAM!
BLARING BRASS AND THUNDERING TYMPANI!
GUESS WHO CAME TO DINNER!
"DON GIOVANNI!" roars the voice from eternity in one of opera's most famous lines, "YOU INVITED ME TO DINE, AND HERE I AM!"
["Don Giovanni a cenar teco m'invitasti e son venuto!"]
Here, Donald Kalbach's terrifyingly sepulchral Basso Profondo reeks of doom as he warns, 'REPENT GIOVANNI! Or by morning you'll be TOAST! Deader than a mackerel! Kaput!'
But, "repent" is a word missing from Giovanni's vocabulary; and in this, the opera's second rare male trio—no tenor—we have Leporello slinking about as his arrogant boss orders him from one comedic situation to another while the statue terrifyingly commands "REPENT!"
Now, the church of Mozart's time frowned on villains of any type; thus, this show was allowed only one outcome: Don Giovanni's sentence is Eternal damnation! But with Hell's address moving from production to production, it's become every set designer's dream come true! But how it's done here, you'll have to see for yourself. All I can say is IT'S A SHOW STOPPER!
Space limitations—the bane of all those with writing pretensions—prevents my mentioning the many many other superb performers whose forgiveness I beg for this lapse.
And once again, this production's shortcomings are basically the confines of a theater lacking the space and machinery for more advanced set design. But even with these limitations, the Lewis' have coupled with Dr. Robert Butts to once again create a work so brilliantly cast and directed as to give our humble community—if only for a few performances—a sound comparable to some of our continent's finer houses! So if you're brain goes orgasmic over celestial singing, come to an early show. You may want to savor it again!
Likewise, I believe the participants and attendees of this production all owe a debt of gratitude to the sagacious members of the Somerset County Board of Freeholders who saved the Brook Theater.
We're living in a disastrous time for the arts. In just in the past few years alone we've lost both the New York City Opera and the New Jersey State Opera. So it's with great joy that I thank those politicians whose foresight allows culture to flourish our county, AND the artists who so selflessly expend their time, energy and fortunes, for our enrichment! To all of you, I am eternally grateful!
Art Ritchie
South Bound Brook
****
About Eastern Opera
Eastern Opera Corp. is a 501 (c) (3) nonprofit corporation organized and operated exclusively for charitable purposes. Specifically, Eastern Opera has been formed to encourage and instruct individuals for the purpose of improving and developing their capabilities, to educate the public on subjects useful to the individual and beneficial to the community, and to promote the arts and culture to the local communities. For more information contact Lou Kersey at loukersey(at)easternopera(dot)org or visit http://www.easternopera.org.