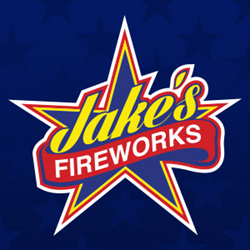 We are excited to kick off the fireworks season with the opening of our Kentwood Fireworks Superstore.
Kentwood, Michigan (PRWEB) May 01, 2015
Jake's Fireworks, birthplace of the leading artillery shell firework Excalibur, proudly announces the 2015 season opening at 4600 28th Street in Kentwood. The Kentwood store will open May 1, 2015, marking the beginning of fireworks season in Michigan.
Jake's Fireworks Kentwood store features a colossal fireworks showroom that features a full size fire engine. High definition videos of the fireworks play on flat screens next to products. The Kentwood location is open from 11 a.m. to 7 p.m. daily. Hours will likely be extended during the holiday season.
"Michigan has always been an important state for our family's business. We're excited to be opening eight additional stores throughout the state," Jason Marietta, family member and vice-president, Jake's Fireworks. Jake's Fireworks has locations in Portage, Holland, Standale, Utica, Saginaw, Grand Rapids, Muskegon and Auburn Hills.
The company is excited to kick off the 2015 season with its customers, and hopes to see everyone at the Kentwood location soon!
About Jake's:
Jake's Fireworks has distribution centers serving nine US states, and retail locations where the general public can shop for fireworks in six states, comprising 250 total retail locations. This means that whether you are looking for wholesale fireworks for a major event or for your own retail establishment, or you are simply someone who would like to put together your own special fireworks display for a local event or family occasion, you can access Jake's Fireworks' world class range of pyrotechnic delights.
Since the 2012 change in the laws around the sale of fireworks in the state of Michigan, Jake's Fireworks has emerged as the biggest provider of consumer grade fireworks in the state. Jake's Fireworks invites the community of Kentwood, MI to the season opening of their huge fireworks megastore, allowing them an opportunity to see, and, should they want to, buy, an incredible array of firework products. They are now available to wholesale and retail customers 7 days a week.