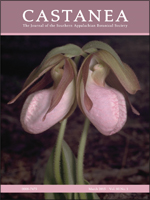 By naming an Appalachian lichen species found near her Tennessee hometown in her honor we hope to pay tribute her tireless work as an artist and philanthropist
(PRWEB) April 30, 2015
Castanea—Dolly Parton has gathered another accolade highlighting her connection and contributions to the Appalachian region of America. A new species of lichen, Japewiella dollypartoniana, was recently found in the Appalachian Mountains, home to the singer and philanthropist, and was named in her honor.
The new species is described in an article in the new issue of Castanea, the journal of the Southern Appalachian Botanical Society. The Appalachians have proven to be a global hotspot for lichen diversity, with a growing number of new lichen species being discovered throughout eastern North America. Lichens are symbiotic, formed by partnerships between fungi and algae. They are an important part of terrestrial ecosystems, with thousands of species of lichens ranging from the arctic to the tropics.
Although the existence of this new species of lichen has been known for many years, it wasn't until the species was found in fruit on the summit of Hangover Mountain in the Unicoi Mountains of western North Carolina that it could be formally identified and placed within the genus Japewiella. Unique aspects of this species include its production of norstictic acid, its sorediate thallus, and the size and shape of it ascospores.
Japewiella dollypartoniana is widely distributed in the Appalachian region of the eastern United States, found from Maine to Georgia. It is most commonly found in the southern Appalachian Mountains and is abundant on the branches of trees and shrubs at middle to high elevations and on heath balds.
Dolly Parton, who started from humble beginnings in the Appalachians, has become one of the most famous country singers of all time. "Dolly Parton is an inspirational figure who has championed the Appalachians both in America and around the globe," said author Jessica Allen. "By naming an Appalachian lichen species found near her Tennessee hometown in her honor we hope to pay tribute her tireless work as an artist and philanthropist."
Full text of the article, "Japewiella dollypartoniana, a New Widespread Lichen in the Appalachian Mountains of Eastern North America," Castanea, Vol. 80, No. 1, 2015, is now available.
###
About Castanea
Castanea is the journal of the Southern Appalachian Botanical Society and publishes articles relating to all aspects of botany in the entire eastern United States and adjoining areas. The Southern Appalachians—the nonglaciated mountainous areas of Alabama, Georgia, South Carolina, North Carolina, Tennessee, Kentucky, Virginia, West Virginia, Maryland, Pennsylvania, and southwestern New York—form an evolutionary center for native plant diversity for the northern temperate regions of the world. The society dates to 1935 and serves all persons interested in the botany of the Southern Appalachian Mountains. The journal encourages submissions of scientific papers dealing with basic research in any field of plant biology, systematics, floristics, ecology, physiology and biochemistry. For more information about the journal or society, please visit: http://www.sabs.appstate.edu.