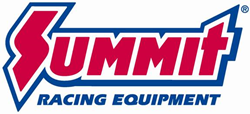 Tallamdge, OH (PRWEB) May 01, 2015
Cragar's been making wheels since the 1960s, so they've have plenty of practice making high-quality wheels for the street, racing, and trucks. Summit Racing has a Cragar wheel that will make any vehicle a class ride. Here are some great choices:
Super Sport Wheels
When someone says Cragar, nine out of 10 times, the Super Sport is the wheel they're talking about. This timeless five-spoke wheel is available in several versions:

Chrome plated steel rim with aluminum alloy centers
One-piece cast aluminum with chrome plated finish
Two-piece cast aluminum with chrome or matte gray center
The Super Sport is available in 14 and 15 inch sizes to fit classic musclecars, plus 17, 18, and 20 inch diameters for trucks and modern muscle.
Eliminator 500 Series Wheels
These Cragar Eliminator Series 500 wheels are a twist on the Super Sport look. The one-piece cast aluminum wheels have flatter, wider spokes that complement today's musclecars quite nicely. The Eliminator 500 is available in 15 and 17 inch sizes in all chrome, all polished, or with a gray matte center and a polished rim.
Soft 8 and D Window Wheels
The Soft 8 and D Window wheels are two-piece steel wheels that will make any truck, SUV, or off-roader look better—they'll even look cool on traditional hot rods and rat rods. The Soft 8 is an eight-hole design available in gloss black, silver, or chrome, while the Window has 10 D-shaped cutouts and is available in gloss black or silver. Both the Soft 8 and D Window Wheels are available in 15, 16, 16.5, and 17 inch sizes. Summit Racing also has a D Window series wheel with a simulated beadlock around the rim.
Nomad I and Nomad II Wheels
The Nomad series is another steel truck wheel that has outlasted every wheel fad known to the enthusiast-kind. The Nomad I is an eight-spoke wheel with a white finish; the Nomad II has eight spokes too, but is covered with chrome plating. Both wheels are available in 13, 14, 15, 16, and 16.5 inch sizes.
Want more choices? Summit Racing carries many other Cragar wheel styles, plus center caps, lug nuts, and trim rings.
Summit Racing Equipment
http://www.SummitRacing.com
1-800-230-3030