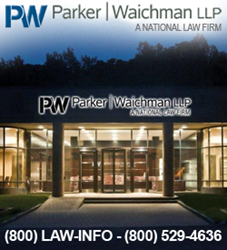 Given that five juries have found Takeda liable for alleged Actos injuries, the settlement will remove the vagaries of this complex litigation
Port Washington, New York (PRWEB) April 30, 2015
Parker Waichman LLP, a national law firm that is actively involved in Actos (pioglitazone) litigation and which has long been dedicated to the protecting the rights of victims who have been injured by drugs and medical devices, is commenting on developments in the ongoing Actos litigation. Takeda Pharmaceutical Company, the maker of the diabetes medication, Actos, has agreed to a $2.4 billion settlement to resolve lawsuits in the United States brought over allegations that Takeda hid cancer risks associated with Actos, according to a Bloomberg Business News report dated April 28, 2015. The consolidated Actos cases in Louisiana are In Re Actos (Pioglitazone) Products Liability Litigation, 11-md-02299, U.S. District Court, Western District of Louisiana (Lafayette).
Parker Waichman is actively involved in the Actos litigation and, according to the firm, continues to be contacted by individuals who have raised concerns regarding their use, or their loved one's use, of the diabetes medication, Actos, and its alleged association to bladder cancer. According to Parker Waichman, the deadline to sign up with the firm is 12:00 noon EDT on Friday, May 1, 2015; the settlement would be open to all claimants who (a) allege that they have bladder cancer; (b) first used Actos prior to December 1, 2011; and (c) either have a lawsuit currently pending or retained counsel to assert a claim within three days of the announcement of the settlement.
More than 3,500 lawsuits have been brought over Actos and have been consolidated before U.S. District Judge Rebecca Doherty in Lafayette, Louisiana, for pretrial discovery in the consolidated litigation, court dockets indicate. Another 4,500 cases have been filed in various state courts in Illinois, West Virginia, California, and Pennsylvania, according to court records, Parker Waichman notes.
"Given that five juries have found Takeda liable for alleged Actos injuries, the settlement will remove the vagaries of this complex litigation," said Matthew J. McCauley, Senior Litigation Counsel at Parker Waichman LLP. "This settlement allows Takeda to reduce challenges that have been seen in the intricate litigation and enables our clients and other plaintiffs to focus on their future healthcare."
Plaintiffs have similarly alleged that the executives at Takeda ignored or minimized concerns regarding Actos' cancer-causing potential prior to releasing the drug to market in 1999 and misled regulators in the U.S. of the apparent risks, according to Parker Waichman.
"Juries are clearly understanding the cases and finding fault on behalf of the company despite Takeda's claims that plaintiffs' lifestyles, not the drug maker's behaviors, are to blame for serious illnesses and deaths," said Parker Waichman's McCauley, who oversees the firm's Actos cases. Parker Waichman LLP is actively involved in Actos litigation and has filed lawsuits on behalf of numerous individuals who developed bladder cancer, allegedly due to taking Actos. In fact, Parker Waichman LLP has maintained a leadership role throughout the Actos litigation, with Jerrold S. Parker, founding partner of the law firm, serving on the Plaintiffs' Steering Committee.
Parker Waichman urges those individuals seeking assistance regarding potential Actos side effects, including bladder cancer, contact the firm before the deadline date of May 1, 2015. The firm offers free legal consultations to victims who suffered bladder cancer after using Actos. If you or a loved one were diagnosed with bladder cancer after taking Actos, please contact the by calling the firm, toll-free, at 1-800-LAW-INFO (1-800-529-4636).