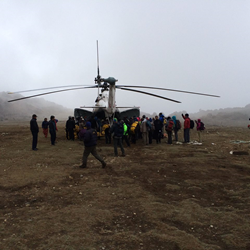 (PRWEB) May 01, 2015
On Wednesday April 29, 2015, at approximately 9:00 AM local time, Incline Village, Nevada-based adventure tour operator Tusker Trail Adventures successfully evacuated all 16 members of a trekking expedition its guides were leading to Everest Base Camp in Nepal when the recent magnitude 7.8 earthquake struck. The Tusker group and guides are now safe in India, and in the coming days will return to their homes in North America.
Tusker guides Melissa Kaida (WFR), Erik Forsythe (EMT-P), and local Nepalese guide Mingma Sherpa, were leading the trek in the Khumbu Valley, Nepal, when, on Saturday April 25th at midday, the massive earthquake struck, triggering devastating avalanches in the Mount Everest region.  At the time of the temblor, Kaida and Forsythe's group had stopped for lunch at Gorak Shep in the Khumbu Valley, two hours shy of their day's destination - Everest Base Camp, approx 18,000 feet above sea level. Climbing and trekking teams at Base Camp at the time of the quake were struck by multiple avalanches that, to date, have killed at least 18 people, injured scores more, while stranding many teams higher on the mountain. No one in the Tusker group suffered any injuries, and in the three days following the quake, led by Kaida, Forsythe and Mingma Sherpa, they began their trek back down the Khumbu Valley to their safe evacuation, a mere four days later.
Coordinating the complex, round-the-clock logistics of an evacuation from a far-flung natural disaster area were Tusker Co-owner Amy Frank, its Operations Director Andrew Springsteel, and Tusker coordinators Jaime Olive and Haley Brunello, all from Tusker's home base in Incline Village, NV. Tusker founder and co-owner Eddie Frank was leading a trek up Mt. Kilimanjaro in Tanzania when the quake hit, and has remained in contact via satellite phone ever since. Key to the safe evacuation of Tusker's Nepal trekkers was the adventure company's new evacuation services partner, Ripcord Travel Protection, which specializes in evacuations and extractions from the world's most remote areas.   
With the Nepalese government controlling all transportation assets in-country, the Tusker group's evacuation was second in priority to those in the most dire medical need.  When Tusker was able to secure an evacuation craft through proper channels, the 16-member Tusker group met their helicopter at Syangboche Airstrip in the Khumbu Valley, and was flown directly to Kathmandu Airport, from where they departed to their safe destinations in New Delhi and Mumbai, India.  Following the evacuation, the craft was immediately returned to the Nepalese government's control and continues to be used in the ongoing rescue efforts across the shaken country.
While adventure trekkers typically obtain medical evacuation coverage, evacuation coverage for natural disasters is harder to come by.  As history shows, travelers who cannot evacuate disaster zones within the first 3-5 days of the event are prone to week's if not month's long delays which exponentially increase the risks of disease, injury, or worse. With outbound flights and official rescue operations facing severe infrastructure obstacles, Tusker did not hesitate to evacuate their stranded Everest Base Camp trekkers at its own expense.  
The Tusker team sends deepest condolences to the many families and friends who have lost homes and loved ones in Nepal.For current updates on the expedition group's safe return home visit Tusker Trail's Facebook page at http://www.facebook.com/TuskerTrail
To learn more about Tusker please visit http://www.tusker.com, or contact Andrew Springsteel at getwild(at)tusker(dot)com