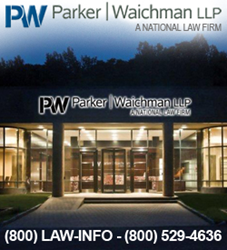 We applaud lawmakers for taking action to extend these benefits, especially to volunteers who traveled nationwide to help at various sites
Port Washington, New York (PRWEB) May 01, 2015
Parker Waichman LLP, a national personal injury law firm that has spent many years fighting to ensure that the heroes and survivors of the 9/11 terror attacks are never forgotten, comments on an April 27, 2015 announcement issued by U.S. Senator Mark Kirk (Republican-Illinois) involving the James Zadroga 9/11 Health and Compensation Act. Senator Kirk discussed the importance of renewing the Act to ensure that 9/11 first responders, including those in from Illinois, continue to receive benefits. More than 170 9/11 first responders from Illinois receive benefits through the Act's programs, the World Trade Center (WTC) Health Program and the September 11th Victim Compensation Fund (VCF). The programs are due to expire in October 2015 and October 2016, respectively.
Senator Kirk was joined by Arthur Noonan, one of Parker Waichman's clients who is a retired Chicago firefighter and volunteer 9/11 responder. Mr. Noonan served with the Chicago Fire Department for over three decades before retiring in 2004 after he was diagnosed with leukemia. Mr. Noonan is among 170 Illinois volunteer responders who may be eligible for participation in the World Trade Center Health Monitoring Program and potentially receive other benefits provided by the Zadroga Act, according to the April 27, 2015 announcement.
"We are proud to have Mr. Noonan as our client," said Mr. McCauley. "He is one of the many 9/11 heroes who sacrificed their lives during a time of serious national crisis. We will continue to fight on Mr. Noonan's behalf and on behalf of all 9/11 first responders to help ensure benefits never lapse and their injuries remain covered under the Act.
The Zadroga Act's benefits are vital to many 9/11 responders and survivors, Parker Waichman notes. The WTC Health Program provides medical treatment and monitoring to affected individuals, including those who responded to the World Trade Center; the Pentagon; and the Shanksville, Pennsylvania crash site. "Every survivor and responder deserves continued coverage under the Zadroga Act." said Matthew J. McCauley, Senior Litigation Counsel at Parker Waichman LLP.
Today, the program monitors over 63,000 responders and provides treatment to more than 7,800 injured 9/11 survivors and responder, according to the announcement. Among other benefits, the VCF provides compensation to responders and survivors who suffered economic loss as a result of toxic dust exposure at Ground Zero. To date, more than 10,549 claimants have been deemed eligible for compensation.
"We applaud lawmakers for taking action to extend these benefits, especially to volunteers who traveled nationwide to help at various sites," said Matthew J. McCauley, Senior Litigation Counsel at Parker Waichman LLP. "These selfless individuals risked their lives at a time when they were needed most, some speeding to the sites from across the country. They deserve to be covered for their injuries."
"The James Zadroga Health and Compensation Act will ensure that the 170 Illinoisans who sacrificed to help at Ground Zero after the 9/11 terrorist attacks receive the healthcare that they deserve," Senator Kirk said, according to the release. "The volunteers from Illinois are the best of the best and they drove across the country to help their fellow Americans in the rubble that Osama bin Laden caused."
Parker Waichman has actively worked toward passage of the Zadroga Act, which was passed in 2010. The firm's actions include, in part, lobbying efforts and trips to Washington DC that were led by Mr. McCauley, often, along with the firm's clients. Mr. McCauley and Parker Waichman continue to support the Zadroga Act and also continue to support efforts to extend the Act's timeline and its scope.
Parker Waichman LLP, which worked, and continues to fight, alongside Ground Zero first responders, survivors, and their advocates, to help ensure passage of the Zadroga Act and its amendments, vows to continue its efforts to safeguard these heroes and ensure that they receive all of the Zadroga Act compensation they deserve. If you or a loved one are eligible for compensation under the Zadroga Act, and would like assistance with your claim, please visit Parker Waichman's website or call 1-800-LAW-INFO (1-800-529-4636).