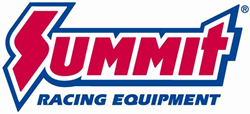 Tallmadge, OH (PRWEB) May 04, 2015
Made by USA Standard Gear, these Spartan Locker mechanical lockers fit into standard differential carriers, replacing the open spider gears. They feature high-nickel 9310 chromoly drivers and couplers for added strength, and include a revolutionary spring and pin design to make installation a snap.
Spartan Lockers are available for the following axles:

Dana 30, 35, 44, and 60
Ford 8, 8.8, and 9 inch
GM 8.5 inch, 8.875 inch passenger car, 8.875 inch truck
AMC Model 20
Chrysler 8.25 inch
Nissan H233B
Suzuki 6.9 inch
Toyota 7.6, 8, 9.5 inch and V6 axle
Keep that Spartan Locker, well, locking with Royal Purple Max-Gear. It's an ultra-tough, high-performance synthetic gear oil that provides maximum protection. The proprietary Synslide additive technology makes gears run smoother, quieter and cooler, and last longer. Meets GL-4 and GL-5 requirements.
Summit Racing Equipment
http://www.SummitRacing.com
1-800-230-3030