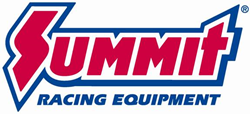 Tallmadge, OH (PRWEB) May 06, 2015
Don't piece together a fuel system with parts that may or may not work together. These Aeroquip Fuel System Plumbing Kits have everything needed to get the job done. That saves time and effort, and provides the peace of mind knowing the plumbing was done with top-quality Aeroquip components.
Mechanical Fuel Pump to Carburetor Kits
Summit Racing has an Aeroquip plumbing kit that fits most Holley, Edelbrock, and other aftermarket carburetors as well as kits for Ford engines with Holley carbs and GM engines with Quadrajets through 1974. The kits include -6 AN stainless steel braided hose and necessary aluminum fittings and adapters.
Stock Fuel Tank to Fuel Filter
This universal kit comes with three feet of -6 AN stainless steel braided hose, a -6 AN straight fitting, and a -6 AN to NPT adapter.
Summit Racing Equipment
http://www.SummitRacing.com
1-800-230-3030