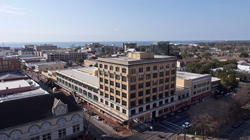 We anticipate announcing new tenants soon who will add to the vibrancy of Palafox Street.
Pensacola, Florida (PRWEB) April 30, 2015
One Palafox Place, LLC has officially closed on a large parcel of property in the Pensacola Historic District. Led by managing investor Robert B. Switzer, the group purchased the 4.5-acre city block on the southwest corner of Palafox and Garden streets from Durnford Enterprises, Ltd., on Thursday, April 30.
The block features approximately 200,000 square feet of commercial space under the roofs of seven buildings which includes two historic Pensacola landmarks – the century-old Blount and Brent buildings – currently occupied by popular retail shops and restaurants. A large parking lot on the west side of Baylen Street is also included in the purchase.
"This is an exciting opportunity to bring new development to our growing downtown, and we look forward to continuing this block's tradition of being in the center of the action," said Switzer. "We anticipate announcing new tenants soon who will add to the vibrancy of Palafox Street."
Switzer emphasized the group's immediate goal is to provide a seamless transition for all current tenants, ensuring that each is comfortable with the new management.
Renovations will soon begin inside the Blount Building, as will cleaning and restorative work along the Garden Street exterior façades.
This acquisition carries special significance for Switzer, the great-grandson of F.C. Brent, for whom the entire block is named.
For the past 35 years, Durnford Enterprises, Ltd., founded by Crawford Rainwater, Sr., has owned and managed the property. The Rainwater family made a significant investment in the property, which was initially in disrepair, producing a beautiful restoration of the buildings.
On Thursday, ownership transitioned back to Switzer and the Brent family. Switzer is the owner of one additional building downtown. He acquired the Thiesen Building, 40 Palafox Place, in 2012.
##
For general information, contact Chuck Tessier at (828) 273-2363 or Ctessier(at)tessierassociates.com. For leasing information, contact Billy Lovelace at (850) 572-2023 or billylovelace1(at)gmail.com.
###