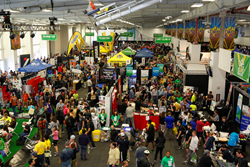 We're thrilled that this massive free celebration of all things bicycling not only serves as a prelude to the TD Five Boro Bike Tour but encourages and empowers people to make cycling a part of their daily lives.
New York, NY (PRWEB) April 30, 2015
On the two days prior to the TD Five Boro Bike Tour Presented by REI, more than 60,000 cyclists will roll through Basketball City to meet, greet, & talk shop with one another and 120 exhibitors. Like the Tour, the event is produced by Bike New York, New York City's leading bike education nonprofit.
Among the exhibitors are top bike and gear brands (including Specialized, Raleigh, Campagnolo); bike apparel labels (PrimalWear, Danny Shane, Cleverhood,); tourism companies (Trek Travel, Taiwan Tourism, Bike Maine); bike events (Bike MS, Braking AIDS® Ride); advocacy groups (People for Bikes, New York Bicycling Coalition); local companies (Redbeard Bikes, Paragon Sports, Triple Eight), and many other companies dedicated to active lifestyles (REI, Citi Bike, Momentum magazine, and Spinlister, who will provide free bike valet service for Expo attendees). In addition to exhibitor booths, attendees will find a beer garden sponsored by Taste NY, food vendors, Bike New York merchandise, onstage programming, and free outdoor bike classes.
"We launched the Expo a few years ago, and it just keeps growing in popularity," says Ken Podziba, President and CEO of Bike New York. "We're thrilled that this massive free celebration of all things bicycling not only serves as a prelude to the TD Five Boro Bike Tour but encourages and empowers people to make cycling a part of their daily lives." For a full list of exhibitors and programming, go to http://www.bike.nyc/events/bike-expo-new-york
DATE/TIME: May 1 (10AM-8PM) & May 2 (9AM-6PM)
LOCATION: Pier 36 at Basketball City (299 South Street, Manhattan)
INTERVIEW: Ken Podziba – President/CEO, Bike New York