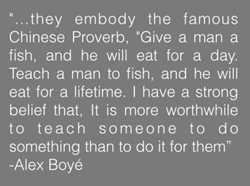 We met Alex late last year and share his passion for helping people in Africa create self reliance for themselves," says Dean Curtis, "He understands our message more than just about any other entertainer on the planet. -Dean Curtis
Provo, UT (PRWEB) April 30, 2015
Previous videos released from the pop star have garnered as many as 60,000,000 views, and Interweave Solutions is honored to be the recipient of such a powerful and moving endorsement from a pop star as successful as Alex Boyé.
"We met Alex late last year and share his passion for helping people in Africa create self reliance for themselves," says Dean Curtis, co-founder of Interweave Solutions. "He understands our message more than just about any other entertainer on the planet."
Dean's book "Charity With a Bottom Line, Business With a Heart," explains the unique self reliance model Interweave utilizes, and is available in a shortened guide, for free, at Interweavestories.org
"What I love about Interweave is that they embody the famous Chinese Proverb, 'Give a man a fish, and he will eat for a day. Teach a man to fish, and he will eat for a lifetime'," says Boyé. "I have a strong belief that, it is more worthwhile to teach someone to do something than to do it for them."
The video is available on Boyé's channel, here.
All proceeds from the video will be donated directly to Interweave Solutions, a 501(c)3 non-profit institution. Donors are invited to make contributions here: https://www.interweavesolutions.org/contribute/alex
Founded in 2008, Interweave Solutions have helped more than 20,000 people create micro-businesses around the world. Interweave partners with local organizations to ensure that each group remains active, self-reliant, and expanding. The Interweave model builds on the interrelationship of three key life areas - Business, Home and Community. Learn more about Interweave's mission in the book Charity With a Bottom Line, Business With a Heart, available for free at http://interweavestories.org/charity-with-a-bottom-line/