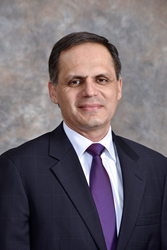 "By building a program, we can help thousands of high-risk patients get the full care they need, and it's minimally invasive, which allows for a faster recovery and return to patients' normal lives." - Dr. Atiq Rehman
Camden, NJ (PRWEB) April 30, 2015
Atiq Rehman, MD, FACS, Director of Surgery for Transcatheter Valve Therapy & Minimally Invasive Cardiac Surgery at Our Lady of Lourdes Medical Center, recently performed the first transcatheter aortic valve replacement (TAVR) in Pakistan.
TAVR is used to treat aortic stenosis, a narrowing of the heart's aortic valve that limits blood flow from the heart to the rest of the body. Some people with aortic stenosis are at high risk for conventional open-heart surgery due to age and other medical conditions.
A nationally known innovator in cardiothoracic surgery, Dr. Rehman led a team of local doctors performing the procedure on an 82-year-old woman on March 29 at the Armed Forces Institute of Cardiology/National Institute of Heart Diseases in Rawalpindi, near the capital Islamabad. While the hospital is a high-volume heart center, doctors and staff there have little exposure to minimally invasive cardiac options like TAVR.
"I want to build an indigenous program so people will not have to travel abroad to get TAVR or other valve surgery," said Dr. Rehman, who graduated from Aga Khan University School of Medicine, in Karachi, Pakistan. "I could go and spend a week doing minimally invasive aortic and mitral valve replacements, but what happens when I leave? By building a program, we can help thousands of high-risk patients get the full care they need, and it's minimally invasive, which allows for a faster recovery and return to patients' normal lives."
TAVR permits patients to receive a new aortic valve without making a large chest incision. Similar to how a stent is placed in an artery, the TAVR procedure delivers a fully collapsible Edwards Sapien aortic heart valve into the body using a catheter inserted in the femoral artery (transfemoral TAVR) or between the ribs (transapical or transaortic TAVR). In both cases, the device the inserted inside the existing valve. As the device is expanded, it pushes the old valve's leaflets aside and takes over regulating blood flow. The procedure is performed without the need for cardiopulmonary bypass.
Preparation for Pakistan's first TAVR took about three months, including staff conducting online training, assembling equipment, performing simulated surgeries and selecting the right patient.
The March 29 surgery took 90 minutes—about the same amount of time as in the United States. The patient spent a week in the hospital and has a positive outlook, said Dr. Rehman, who also serves as Lourdes Director for Quality and Performance Improvement.
In Pakistan, about 90 percent of valve surgeries are due to heart damage caused by rheumatic heart disease, explained Dr. Rehman. Patients are younger than in the United States, and sometimes require multiple surgeries. Health insurance is rare in Pakistan, and many patients pay for hospital stays in cash.
In general, TAVR patients benefit immediately from the new valve, with many feeling greater stamina, physical capacity and cardiovascular health. Patients may go home two to three days after surgery. Recovery takes only a few weeks, compared to many months associated with conventional open-heart surgery.
"Men in Pakistan are often the sole breadwinners, so keeping them out of work for two or three months is unacceptable. For women, a large, mid-line scar becomes a social issue," said Dr. Rehman. "Affordable, minimally invasive procedures improve quality of life beyond what we may see here in the States."
Dr. Rehman partnered with the Armed Forces Institute of Cardiology two years ago to develop that nation's first minimally invasive heart surgery program. Minimally invasive approaches result in less pain, less blood loss, reduced risk of infection, shorter time in the hospital, quicker recovery and smaller, less noticeable scars.
During trips to Pakistan, Dr. Rehman performed and trained physicians there on aortic and mitral valve surgeries. He plans on returning to Pakistan in about six months to help sustain the TAVR program and introduce new procedures.
"It's very challenging, but gratifying," said Dr. Rehman. "It's a complex procedure, and you don't have your own team. You are working with new people. But that's the fun of it. The challenge is the fun."
Our Lady of Lourdes Medical Center is one of the leading TAVR centers in the region, with among the best patient outcomes in the state.
About Our Lady of Lourdes Medical Center
Our Lady of Lourdes Medical Center is a 325-bed destination hospital for heart care. It is consistently recognized for quality care by leading health ratings organizations for outstanding cardiovascular care. In 2015, Lourdes was honored by Healthgrades as one of the 50 Best Hospitals in America for Cardiac Surgery and by Truven Health Analytics as one of the nation's 50 top hospitals for overall cardiovascular care.