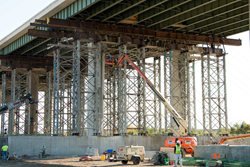 Wilmington, DE (PRWEB) May 08, 2015
An 11-month bridge repair project has concluded with newly constructed pier replacements to ensure a sound structure. The foundations of two pairs of piers were replaced with two additional piers receiving new support columns and footings. General Contractor J.D. Eckman orchestrated the nearly year-long project, along with Delaware DOT, to replace and repair the leaning piers that were first discovered by a passerby and later determined unsafe by DelDOT engineers.
Portions of the I-495 bridge were closed to traffic in June 2014 while Eckman installed Mabey Inc.'s temporary support towers and hydraulic jacking system to support the bridge before construction could begin. With the bridge safely stabilized, motorists were delighted to find the bridge reopened before Labor Day while bridge repairs continued underneath their tires.
Mabey's MAT 75/125 tower system is a pre-engineered structural support system that bolts together on site and does not require time-consuming welding or special fabrication. It is used for access platforms, heavy-duty falsework, bridging support projects and temporary bridge piers.
For more information on all of Mabey's Support Towers and Temporary Bridging solutions, please visit this link: http://www.mabey.com/products-services/structural-shoring/
###
For over 25 years, Mabey Inc. has been a leader in engineered solutions for construction equipment rentals, including structural and excavation shoring, bridging, and temporary roadways. In addition to construction equipment rentals and matting installation, Mabey Inc. provides professional engineering services, on-site technical advisors and hands-on safety training