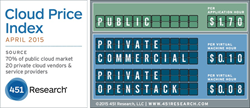 "Finding an OpenStack engineer is a tough and expensive task that is impacting today's cloud-buying decisions," said Dr. Owen Rogers, senior analyst, 451 Research
LONDON and NEW YORK (PRWEB) May 01, 2015
451 Research today launched its latest Cloud Price Index, the most rigorous and comprehensive analysis of the cost of cloud computing. For the first time in the industry, buyers have complete transparency into the complex pricing models of both public and private clouds, analysis of the total cost of ownership (TCO), and insight into the 'golden ratios' that determine when private or public cloud options become better value.
Cloud Price Index: Private Edition, published today, reveals that equivalent solutions from commercial software vendors have TCO advantages over OpenStack due to the high cost and low supply of skilled OpenStack engineers.
The typical cost of small-scale enterprise private clouds powered by VMware, Red Hat and Microsoft are all within half a cent of each other at about $0.10 per virtual-machine hour while OpenStack distributions cost, on average, $0.08 per VM hour, a 20 percent saving. But when factoring other elements, including the scarcity of OpenStack skills, 451 Research believes that for a typical deployment, buyers could hire 3 percent more engineers to support a commercial cloud environment, and still have a lower cost of ownership compared to an OpenStack distribution.
While public cloud has openly available pricing and is charged based on consumption, private cloud is still procured like traditional IT, with pricing, design and payment terms specified on a per-customer basis. In The Private Life of Private Clouds, 451 analysts help subscribers understand this complex, customized pricing model by revealing average prices and TCO for a range of options, including software and management.
"Finding an OpenStack engineer is a tough and expensive task that is impacting today's cloud-buying decisions," said Dr. Owen Rogers, senior analyst, 451 Research. "Commercial offerings, OpenStack distributions and managed services all have their strengths and weaknesses, but the important factors are features, enterprise readiness and the availability of specialists who understand how to keep a deployment operational. Buyers need to balance all of these aspects with a long-term strategic view – as well as TCO – to determine the best course of action for their needs.
"Decisions also need to include the risks associated with lock-in should prices rise, support dwindle or features be decommissioned," Rogers added. "As OpenStack matures and the pool of available engineering staff increases, buyers can expect the TCO of deploying OpenStack to improve."
The report also reveals that OpenStack distributions can provide a TCO advantage over the DIY approach for a typical small-scale enterprise deployment, but only where the use of a distribution results in a 45 percent manpower saving. Considering the simpler implementation and operations afforded through a distribution, 451 analysts believe such a saving can be achieved, therefore giving distributions a lower TCO for most deployments.
Golden Ratios
The value of managed and public clouds compared to self-managed implementations depends on how many virtual machines a team of engineers is able to successfully support. Using the CPI, 451 Research has analyzed the 'golden ratio' of how many virtual machines a team of engineers must be able to support on a private cloud for a TCO advantage to be achieved in a small-scale enterprise scenario. If a private cloud is being successfully operated with a ratio of at least one engineer to about 100 virtual machines, it may be deriving better TCO than the averagely-priced managed private cloud. If each engineer is not able to fully support this minimum amount, an average managed cloud is likely to be cheaper. For mission-critical, resource-intensive workloads installed on a private cloud, this ratio might not be achieved, and thus managed services offer better TCO.
The low price of public cloud relative to the average private cloud price makes this ratio even larger. For a small-scale self-managed enterprise private cloud to be cheaper than public cloud, the golden ratio is at least 250 virtual machines per engineer. However, due to the huge variation in price between quotations received, both ratios will depend on the price quoted by each provider – some managed private cloud quotations were cheaper than public cloud. Considering the security, regulatory and control benefits of private cloud, paying more for private can certainly be worthwhile for mission-critical environments.
Expansion of the Cloud Price Index Service
Since the end of 2014, the 451 Research Digital Economics unit of the Cloud & IT Services channel, has been building out the Cloud Price Index and creating additional indexes to address market pricing for other cloud and hosting service segments.
These services enable subscribers to better compare the cost of deploying across on-premises, hosted private and public IaaS, as well as assess changes in pricing based on how an application is used, not just on point services.
"The CPI is a tool that will benefit buyers weighing the most appropriate venues to run applications and workloads or to source services and providers determining pricing strategies," said 451 Research Vice President, William Fellows. "For the first time, buyers have access to an accurate, independent indicator of the price they can expect to pay for real-world cloud use and determine whether suppliers are charging a tax or providing a dividend versus the market rate."
From 2015, the CPI Public Cloud Edition takes into account not only price, but also market share, in its calculation. The resulting figures give the average market price an enterprise should expect to pay per hour for hosting an application on the cloud - it currently stands at $1.70 per hour.
The Public edition of the Cloud Price Index defines a precise specification of a multi-service three-tier cloud application consisting of Linux Virtual Machines, object storage, block storage, relational database, NoSQL database, load balancing, access control lists and snapshot backup in a resilient architecture. The majority of the cost of the CPI is not in the resources themselves, but in the additional services – database services account for more than 50 percent of the cost of the CPI, for instance.
The CPI is based on quotations and estimates from companies including Accenture, Adapt, AWS, Bluebox, Canonical, CenturyLink, Colt, Dell, Dimension Data, Google, Helion HP, IBM, Internap, Logicworks, Metacloud, Microsoft, Mirantis, Piston, Rackspace, Red Hat, SUSE, Swisscom, Verizon, VMware and Windstream.
Join 451 Research Analysts William Fellows and Owen Rogers to learn how you can use the 451 Research Cloud Price Index (CPI) to compare the cost of deploying across on-premises, hosted private and public IaaS, and also assess changes in pricing based on how an application is used, not just on point services. Register now.
About 451 Research
451 Research is a preeminent information technology research and advisory company. With a core focus on technology innovation and market disruption, we provide essential insight for leaders of the digital economy. More than 100 analysts and consultants deliver that insight via syndicated research, advisory services and live events to more than 1,000 client organizations in North America, Europe and around the world. Founded in 2000 and headquartered in New York, 451 Research is a division of The 451 Group. Learn more.