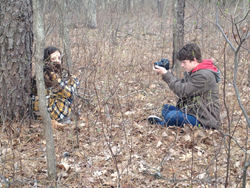 I'm passionate about film making and working on this project has gotten me hooked.
Voorhees, N.J. (PRWEB) April 30, 2015
Dante Bruzzese, a professional actor and sophomore at Eastern Regional High School, recently directed his first short film as part of the Philadelphia 48-Hour Film Project, which pits budding filmmakers in a breakneck competition to create a short movie, from script to final cut, in just two days. Bruzzese's entry, Closure, was scheduled to be screened with 18 other short films on May 3, 2015, at International House in Philadelphia.
The film, which according to the rules couldn't exceed seven minutes, was written and produced by Bruzzese's mother, Georgeanne Bruzzese, and came to life through the efforts and support of a mix of family, friends and professional actors from the region who volunteered their time. It was shot in about 16 hours on April 25.
Filming began early in the morning at McGettigan's 19th Hole Bar in Absecon, New Jersey, then progressed to a restored historical building, The Joseph Bucknell House in Marlton, New Jersey. Additional scenes were shot at a home in Gibbsboro, New Jersey and in a wooded area of Voorhees, New Jersey. Filming concluded late at night at a 19th Century home in the hills of Manayunk, Pennsylvania.
"This was a very challenging, exhausting experience, but it was cool working with a team of dedicated professionals, friends and family who were all on the same page, and willing to be directed by a 16-year-old kid – to create a well executed film with virtually no budget and in a single weekend," said Dante Bruzzese, whose entry was submitted under the name Bruh Films!
Closure tells the story of a veteran police detective who become obsessed with capturing a suspected pedophile and kidnapper. During an enforced vacation, he decides to take matters into his own hands in the hope of rescuing a young girl, played in the movie by Bruzzese's younger sister, Giuliana Bruzzese.
To ensure no filmmaker could get a head start on production, each of the 19 competing teams received its film genre on Friday evening during a kick-off event at the Lansdowne Theatre in Lansdowne, Pennsylvania, along with a few elements that needed to appear in the final cut. Bruh Films!'s genre was detective/cop, and all entries had to include the character "Billie Langevin, Advertising Executive," the quote "Just do it yourself" and a key, in some context.
Closure stars Joseph Lukas of Philadelphia, Lawrence Derx of Rockville, Maryland, Gil Scutti of Voorhees, and Tom Stackhouse of Mount Springfield Township, New Jersey. Bruzzese's cousin, Richard Golden of Voorhees and long time friend Nick Burns of Little Egg Harbor, New Jersey, served as assistant directors to the young director.
An actor since age eight, Bruzzese has appeared in the feature film The Family with Robert DeNiro, The History Channel's The Men Who Built America, NBC's Law & Order: Special Victims Unit and several short films. He is also set to appear in a Season 3 episode of Orange is the New Black on Netflix.
Bruzzese also edited the movie on Day 2, and learned first-hand the difficult choices all filmmakers have to make during the editing process.
"The movie came in at 11 minutes, and it killed us but we had to cut some significant scenes that we worked hard to get, but just weren't integral to moving the story forward," Bruzzese said.
"We are going to be putting together a director's cut for everyone who participated," said Georgeanne Bruzzese. Then, joking, "look for it on the Blu-ray."
Bruh Films! doesn't know how Closure will stand up against its competitors, but win or lose, Dante Bruzzese found the project offered a slew of other rewards.
"My first directing effort was a baptism by fire, but with the support of many talented people, I think we did really well. For a seven minute film, shot in one day by a first-year team, the film is solid," he said. "It clearly tells the story. The acting is grounded and real – and sometimes downright creepy. The required components – character, line and prop – are well portrayed. The editing, which was incredibly challenging because of everything we needed to cut, is credible. Closure is the real deal," he said. "I'm passionate about film making and working on this project has gotten me hooked."
Bruzzese is already looking ahead to his next film, which he plans on shooting this summer, and is researching upcoming film festivals where he can continue to submit his work.