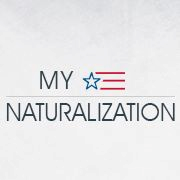 In the United States, 8.8 million Lawful Permanent Residents are eligible to naturalize
Miami, Florida (PRWEB) May 05, 2015
In the United States, 8.8 million Lawful Permanent Residents are eligible to naturalize (1). On April 14th, 2015, the White House Task Force on Immigrants said one of its goals was "Strengthening Existing Pathways to Naturalization (2). MyNaturalization.com is a new solution available online and an answer to this challenge: Make the Naturalization process simple for legal permanent residents who qualify for United States Citizenship.
What?
MyNaturalization.com is a service that helps determine if lawful permanent residents are eligible for U.S. Citizenship and assists them filling the form to apply.
For who?
Lawful permanent residents can use the website even if they already know that they are eligible for U.S. Citizenship.
Why?
Many legal permanent residents don't apply for U.S. Citizenship because the form is hard to complete and the Naturalization process seems too difficult to them. MyNaturalization.com helps them, step by step, complete the form and put together their immigration case. Applicants can receive assistance in Spanish if needed.
How does it work?
The system helps you verify Lawful Permanent Resident eligibility and then collects the data needed to complete the N-400 form. The process is simple enough to fit the Legal Permanent Residents' profiles.
How much does it cost?
Applicants only pay US$99 for the application assistance (plus filing fees paid to the U.S. Government, as applicable). Eligibility to the U.S. Citizenship assessment is free.
MyNaturalization.com is available in English with assistance in Spanish at http://www.mynaturalization.com/
About MyNaturalization.com
MyNaturalization.com is a law firm incorporated in 2015 in Florida. The company is owned and operated by experienced and proven immigration attorneys. It aims to make the process of applying for United States Citizenship faster, easier and affordable for those who do not require assistance by an immigration attorney.
MyNaturalization.com is a private website and is not affiliated with the U.S. government or any government. MyNaturalization.com is a law firm, but it does not substitute for the advice of an immigration attorney.
(1) http://www.dhs.gov/sites/default/files/publications/ois_lpr_pe_2012.pdf
(2) https://www.whitehouse.gov/sites/default/files/docs/final_tf_newamericans_report_4-14-15_clean.pdf