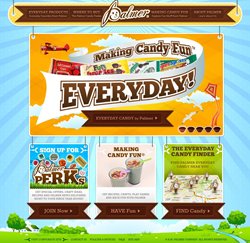 Reading, PA (PRWEB) May 04, 2015
R.M. Palmer Company, the 75th largest confectioner in the world, announces the launch of its Everyday Candy website (http://www.rmpalmer.com) featuring new products, recipes and crafts for summer family fun.
The site features two brand new Palmer candy bars making their debuts for summer. Fans of the iconic American chocolaty drink Yoo Hoo will be delighted to find that Palmer has incorporated its famous flavor into a 4.5-oz. Yoo Hoo Bar. In addition, Palmer has infused its creamy milk chocolate flavored candy with a delightful pretzel crunch in a new 4.5-oz. Pretzel Bits Bar. For quick snacking on the go, Palmer is also offering 4-oz. bags of Yoo Hoo Mini Bars for summer.
Palmer is also introducing a series of foil-wrapped caramel-filled balls in fourteen bright new colors that are perfect for special occasions such as weddings, birthdays, graduations, theme parties, sporting events and holidays. Colors may be mixed and matched to create a custom look for any occasion.
In addition to new candy, Palmer's Everyday Candy website features a cool new Peanut Butter Cup Smoothie recipe topped with Palmer's popular Peanut Butter Cups. The site also features a new Shining Star Trophy craft that provides a sweet, affordable way for parents, teachers, coaches and others to recognize their star performers. Filled with Palmer Sports Balls or any Palmer treat, these trophies are a great way to thank someone special for a job well done.
Following Palmer's tradition of making family celebrations fun and affordable, every craft and recipe on the site costs $10 or less to make. The company's goal is to provide activities and ideas that help families on a budget celebrate every season of the year.
Each year, R.M. Palmer Co. manufactures more than 500 unique seasonal novelties for sale through nearly 100,000 grocery stores, discount stores, drug stores and other retail outlets throughout the United States.
ABOUT R.M. PALMER COMPANY
R.M. Palmer Company has been crafting fun, seasonal chocolate novelties since 1948. Today, the R.M. Palmer Company is the 75th largest confectioner in the world, with more than $165 million in annual sales, and is the 21st largest confectioner in North America (according to candyindustry.com). From their headquarters in West Reading, PA, Palmer's 850 dedicated employees design, produce, package and ship more than 500 unique items to nearly 100,000 retail locations in North America - making Palmer one of America's largest and most innovative confectioners. For more information about R.M. Palmer Company, visit http://www.rmpalmer.com.