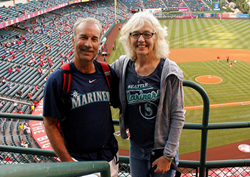 We are so thankful to have found six generous people so far to sponsor these children. We only hope this trend can continue and that we can find at least 24 more sponsors before we return home
Kansas City, Kan. (PRWEB) April 30, 2015
Editor's note: Jack and Jodi have visited 21 parks as of June 15 and have found sponsors for eight children. They will be in Kansas City for the Royals games July 5-7. They will be trying to find a sponsor for Mousmi from India. Her connection is to Royals third baseman, Mike Moustakas.
View their complete travel schedule here.
Baseball season is in full swing and Jack and Jodi Petrinovich from Lakewood, WA are six for six on their cross-country road trip to fight global poverty.
The Petrinoviches are longtime supporters of Unbound, an international humanitarian organization that works in 20 developing countries helping families break out of poverty.
Mixing their passions for helping people in need and baseball, The Petrinoviches have hatched a plan to find sponsors for 30 children – one to represent each MLB park they visit.
The couple has visited 6 of the 30 parks on their three-month trek across the U.S and has successfully found sponsors for six kids waiting to join the Unbound sponsorship program.
Each child waiting for a sponsor has a connection to each of the MLB teams, whether it's having a name similar to a team's city or player or being from the same country as a player.
"Our purpose for this road trip is to support Unbound by finding 30 sponsors for 30 children at 30 ballparks," said Jodi Petrinovich. "We are so thankful to have found six generous people so far to sponsor these children. We only hope this trend can continue and that we can find at least 24 more sponsors before we return home."
Visit the Petrinoviches' My Outreach page to sponsor a child, and follow @UnboundOrg on Twitter for updates.
"We have met wonderful people, seen beautiful parts of our country and enjoyed baseball in twenty-one different cities so far, said Jodi Petrinovich. "We hope these new sponsors will find as much joy as we have in knowing that their actions really can make a difference."
Unbound is the largest nonprofit organization in Kansas with more than $120 million in annual revenue. Unbound works side by side with people of diverse faiths in 20 countries, bringing people together to challenge poverty in new and innovative ways.
Unbound distributes direct aid as quickly and efficiently as possible to people who need it. 92.5 percent of Unbound's expenses go toward program support.
###