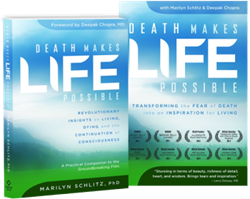 San Francisco, CA (PRWEB) May 01, 2015
What if contemplating and facing our mortality allowed us to live our lives more fully, without fear? In the newly released film and companion book Death Makes Life Possible, Dr. Marilyn Schlitz, PhD, presents a wealth of teachings and practical guidance on how to turn this taboo topic into a source of peace, hope, connection, and compassion.
"Our beliefs about what happens when we die define how we live today. And more and more of us are discovering a radical truth: when we release our fear of death, we open to an immensely richer life right here and now." says Dr. Schlitz.
Rich in scientific investigation and varying worldviews, the book and film feature eminent scientists and scholars, spiritual leaders, devout skeptics, health practitioners, and people from all walks of life, revealing the myriad ways that we grow and change by expanding our perspectives on the ultimate mystery facing each one of us.
The timeliness of this topic is highlighted by the more than 10,000 baby boomers reaching the age of sixty-five every day in the United States alone. By 2040 the number of people turning 65 is calculated to hit 1.3 billion worldwide. However death is not a topic reserved for the elderly since it is something everyone will eventually face. These works invite us to address our views about death and to examine our beliefs about what we think will happen next.
"As we seek to transform our views on death," says Dr. Schlitz, "we can build new perspectives on our mortality that redefine who we are and what we are capable of becoming."
Death Makes Life Possible release date: May 1st, 2015. The film is distributed by Specialty Studios. Executive Producers are Marilyn Schlitz and Deepak Chopra. Produced by The Chopra Foundation, Institute of Noetic Sciences (IONS), Petaluma Pictures, and Worldview Enterprises. Directed by Mark Krigbaum. The book is published by Sounds True Publishing. For more information on the book and film, visit http://www.deathmakeslifepossible.com.
ABOUT THE AUTHOR
Marilyn Schlitz, PhD, is a social anthropologist, writer, and speaker who has been a leader in the field of consciousness studies for more than three decades. The author of Consciousness and Healing (Elsevier, 2004; with Tina Amorok and Marc Micozzi) and Living Deeply (New Harbinger, 2008; with Cassandra Vieten and Tina Amorok), she serves as president emeritus and a senior fellow at the Institute of Noetic Sciences. Dr. Schlitz lives in California. See marilynschlitz.com.
THE BOOK
Death Makes Life Possible - Revolutionary Insights on Living, Dying and the Continuation of Consciousness by Marilyn Schlitz / Sounds True / May 1, 2015 / Paperback / 233 pages / ISBN: 978-1-62203-416-1 / ebook ISBN: 978-1-62203-453-6 / US $17.95 / Self-Help, Death and Dying / World Rights
THE FILM
Death Makes Life Possible - Transforming the Fear of Death into an Inspiration for Living by Marilyn Schlitz / Specialty Studios/ Digital Release / May 1st, 2015 : Amazon / DVD - Educational & Community Screening Licensing: deathmakeslifepossible.com
What People Are Saying About Death Makes Life Possible - THE BOOK
"Marilyn Schlitz's new book, Death Makes Life Possible, is a rare and wonderful exploration of that area of our culture that is still 'the most repressed topic': death. From a variety of perspectives—personal, spiritual, indigenous, traditional, post-materialist scientific—Dr. Schlitz opens this area to a fascinating adventure, including dialogues with dozens and dozens of teachers, scientists, spiritual leaders . . . all in an attempt to 'de-repress' this area and make it a part of the tapestry of life that it in fact is. Bold, brave, wise, riveting, her account superbly helps to overcome this 'denial of death' our culture is still saturated with." Ken Wilber Author: The Integral Vision
"In her book, Death Makes Life Possible, Marilyn Schlitz, PhD offers important insights and tools for transforming fear-based perspectives on death into awareness-based views that support our inner growth and enhance our overall experience of life." Michael A. Singer Author of The Untethered Soul
"St. Augustine advised "Let death be thy teacher" because at the time he wasn't able to refer his disciples to Marilyn Schlitz' magnificent compilation of insight and wisdom on the topic. Had he, they would have not only been able to benefit from their own introspection but from the way life and death have been understood across many cultures and time periods, all framed within contemporary scientific understanding. In short, you have access, in Death Makes Life Possible, to a treasure that was not available back then." David Feinstein, Ph.D. Co-author, Rituals for Living and Dying
"What a courageous move by Marilyn Schultz, to bring the topic of death out into the open to be contemplated, discussed, wrestled with and embraced as a natural part of life. Every health care leader, nurse and care provider should read this book and use it as a springboard for rethinking and refining how we in healthcare approach death, support it, educate about it, staff for it and experience it." Kathy Douglas, RN, MPH-HA Director of the film NURSES If Florence Could See Us Now
"This is an important book. Schlitz shows us that the limits of human growth are not fixed and opens new windows on our capacities for self-transcendence. As both an anthropologist and consciousness researcher, she leads us through a panoramic vista of worldviews on death and the afterlife. Pulling together intimate personal experiences around dying with a careful review of the scientific evidence for post-mortem survival, Schlitz invites us to examine our deepest assumptions about human existence. She treats death awareness as a transformative practice that gives life meaning, both individually and for our shared human experience." Michael Murphy Co-founder of the Esalen Institute
"There are many differences across cultures, traditions, and worldviews. And there is one thing we all share in common: death. In this powerful book, Dr. Schlitz offers an insightful guide to understanding our common humanity and how our deep appreciation of death connects us all, regardless of our specific faith tradition. The subject and her treatment of it are both fascinating and timeless, and show that Marilyn Schlitz is in the vanguard of thinkers in the interdisciplinary field that spans spirituality, psychology, and culture studies." Maria Volkova, Women's Program Director, Women's Task Force, Council for a Parliament of the World's Religions
"Marilyn Schiltz's book Death Makes Life Possible takes the reader on a fascinating journey along a road rarely traveled—one that explores a multiplicity of opportunities for personal and societal transformation by pondering death and understanding the implications of death's far-reaching web of fear. One of the key messages her book conveys is that death can teach us how to live a more conscious and enriched life when we can let go of that innate existential fear we all have. The sooner we start letting death teach us, the more fulfilling our lives can be. Compassionate volunteer caregivers who serve the dying learn this quickly, and their lives are forever transformed in ways they never thought possible. Compassion is the world's elixir for the fear of death." Greg Schneider Founder and President of Hospice Volunteer Association
"Marilyn takes us on a journey opening the possibility, with documented living examples, of coming into an expanded and heretofore unrecognized way of living. This shift aligns us with our ability to live to our inherent potential and to be aware of both the individuality and simultaneously, the universality of each person. Paradoxically, as her title states, death is the doorway to this expansion." Sue Steele Co-editor of Exploring Issues of Care, Dying, and the End of Life
What People Are Saying About Death Makes Life Possible - THE FILM
"Highly recommended. Deeply personal, yet universal in scope, Death Makes Life Possible is not just about how to die peacefully and gracefully; more importantly, it describes how to fully live."
-Dean Ornish, MD
"Skillfully and gently raises the curtain on what we think of as the last act in the our play of life. A landmark production, not to be missed."
-Light of Consciousness Magazine
"Stunning in terms of beauty, richness of detail, heart and wisdom. Brings tears and inspiration."
-Larry Dossey, MD
"At Hospice Maui, our Spiritual Care Counselors are particularly attuned to the existential suffering that is often present as someone faces their last days in this world. The film 'Death Makes Life Possible' is a very welcome and very powerful new tool. We will be using it for years to come, not only to help relieve the suffering in some of our patients, but also, and sometimes much more importantly, with their families to ease their grief and distress before and after the death."
–Dr. R. Gregory LaGoy, BS, ND, MBA, Chief Executive Officer, Hospice Maui, Inc.
"A superb training opportunity for professionals who work with families facing death. Told through riveting personal narrative and scientific evidence, the film deepens our awareness of continuity of consciousness to reframe the entire journey."
–Lisa Miller, Ph.D., Professor & Director, Clinical Psychology Program & Spirituality Mind Body Institute, Teachers College, Columbia University
"Recommended. Death Makes Life Possible approaches the millennia-old question, 'what happens after death?' from a variety of perspectives. Each cultural, religious, and scientific perspective of death is given space to provide explanation for its description of what happens after death. This film is noteworthy in a time when most Americans try to pretend that death does not exist, yet it is an experience shared by all forms of life. This film is suggested for sociology, counseling, neuroscience, religion, and health care – the facets of all these subjects that deal with the study and understanding of death."
-Rodney Birch, Educational Media Reviews Online