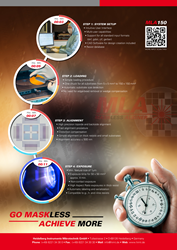 MLA systems will greatly shorten the cycle time producing devices." States Alexander Forozan, Vice President of Global Sales and Business Development
Heidelberg, Baden-Württemberg (PRWEB) May 02, 2015
Heidelberg Instruments significantly extends its leadership in manufacturing of direct write lithography systems with the launch of MLA Maskless Aigner series of systems. Low to mid volume lithography traditionally consist of creating designs with a CAD software, followed by fabricating or purchasing a photomask and finally using a mask aligner or stepper to transfer the pattern on to the photoresist. For high volume manufacturing of sub-micron design nodes, this traditional process is required. However, for many other applications, such as designs with patterns of over one micron in a mid or low volume production or prototyping environment, why not directly irradiate the wafer, forming the desired pattern and thereby getting rid of the mask aligner and the photomask process all together? At Heidelberg Instruments we think you absolutely should and therefore have introduced the MLA Maskless Aligner. No need for photomasks, Mask Aligners or Steppers! Just create your design file and expose it directly on the wafer coated with resist.
"Typically on an annual basis, a multi user facility or mid volume production fab spends hundreds of thousands of dollars on photomasks. Additional funding is allocated for staff to process and operate tools to inspect and in some cases clean, and repair masks. These tools also cost a great deal, and take up valuable clean-room floor space. And Last, but not least, MLA systems will greatly shorten the cycle time producing devices," states Alexander Forozan, Vice President of Global Sales and Business Development.
The MLA technology is advanced, reliable, and user friendly. Systems have an array of capabilities, some of which are not offered by the mask aligner manufacturers. The integrated metrology system enables the MLA to conduct overlay alignment to multiple targets on the substrate. Systems are capable to expose structures down to 1 micron and can be configured with two different laser sources to accommodate various photo resists. "The MLA is the first real alternative to standard UV lithography using Mask Aligner or Stepper. Up to know direct write lithography tools were unable to compete with standard lithography tools because they were too slow, too complicated to use and not compatible to all standard lithography applications. The MLA is extremely fast, offers high-resolution patterning, features very precise back and front-side alignment and is really easy to operate. The MLA is contact-less exposure system and is a more flexible tool compare to a Mask Aligner technology," states Steffen Diez, MLA Product Line Director.