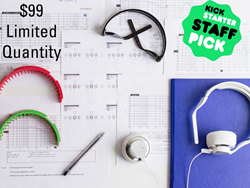 New York, New York (PRWEB) April 30, 2015
Kevin Oh, Co-founder of Axel Audio, announced the debut of Axel Audio's premium modular headphones, which will be available for pre-order via Kickstarter donation starting April 28 and begin shipping this summer.
Axel's headphones have fully interchangeable modular components (speaker units, headband, headband inserts and cable). Axel aims to simplify the normally daunting headphone-buying process by offering a menu of components from which the customer selects to create his or her ideal headphone. The menu includes a choice of 3 specifically engineered speaker units, dubbed Soundscapes (Core, Pure, and Deep) and 3 styles of headband inserts (Classic, Waves, or Spikes). Backers can either select an on-ear headphone set or an over-ear headphone set. The over-ear line will initially be available in black only, while the on-ear models will be available in either black or white.
To deepen the customized experience, Axel's developers have created an app that analyzes a user's listening behaviors on Spotify and uses music algorithms at The Echo Nest in order to create the ideal match between Soundscape and listener. The app with Spotify further simplifies the selection process.
The Soundscapes are the main attraction, especially since they target every kind of listener, as Oh explains. While the Soundscapes all share the same exterior design, the difference comes down to the inner engineering. Each Soundscape is unique in its speaker driver, coating, filter texture and shape, as well as in the construction of its acoustic chamber. Oh elaborates: "As a very general overview, Soundscape Pure was designed with the 'audio purist' in mind, to create an intimate and detailed listening experience. Soundscape Deep is for the 'bass heads' with reverberating lows and full, yet controlled power. Soundscape Core may be the most versatile, with smooth textures and a sweet mid-range." He summarizes: "Our top priority is ensuring our customers end up with the Soundscape that makes their music sound best to them, and we'll always be available to help guide the decision. Our message to users, which we express via our product, is: 'Only you know for yourself how to listen, look, and feel.'"
"The Soundscapes are like mirrors – reflections of real user preferences, not ours," elaborates Oh. "As music fanatics ourselves, we're tired of audio hardware that seems to be telling or implying to us how we 'should' want the music to sound. With Axel Headphones we want to forgo our sense of control as manufacturers and return that control back to our users. We want them to define the experience."
With this initial product, Axel intends to bridge the gap between flashy "style-over-sound" headphone newcomers and long-running pro audio brands—whose massive selections, lack of customizability, and technical jargon can make the selection process confusing and ultimately disappointing for non-professionals.
Axel seeks to raise $180,000 on Kickstarter. The primary use of the funds will be to obtain the headphones' "tooling," which refers to the intricate, one-of-a-kind molds and other equipment required to precisely manufacture the technological components.
What You'll Get on Kickstarter
Backers can choose from a menu of 3 speaker units dubbed "Soundscapes" according to their listening preferences (Soundscape Pure, Deep, or Core). Kickstarter backers will receive a standard Classic headset, a Spikes headset and an exclusive glow-in-the-dark Kickstarter green "Waves" headband for free with their donation/pre-order.
Backers can select headphones with either on-ear speaker units in black or white or over-ear speaker units in black only. The on-ear headphones retail for $150 and the over-ear headphones retail for $180. Kickstarter backers will receive a special discount, $125 for on-ear and $149 for over-ear. Axel will also offer an Early Bird Special for the first 100 backers: $99 for on-ear headphones and $125 for over-ear headphones.
About Axel Audio
Axel Audio features a diverse team of musicians, industry veterans, and above all else, creators. Headquartered in Port Washington, NY, the company's mission is to equip fellow music lovers with the tools they need to truly personalize their listening experiences, as encapsulated in Axel's unofficial motto: "Less of us, more of you."