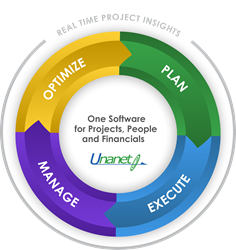 Dulles, VA (PRWEB) April 30, 2015
Unanet, a provider of software that enables organizations to better manage Projects, People, and Financials has announced that it will be exhibiting at TSW 2015 Best Practices Conference in Santa Clara, CA. Unanet has more than 1,000 customers in the technology services industry.
The conference, hosted by Technology Services Industry Association (TSIA) will take place from May 4-6 at the Santa Clara Convention Center. Over 1,000 attendees are expected. The conference will offer sessions with different focuses, including: Customer Success and Support, Education Services, Field Services, Managed Services, Professional Services, and Service Revenue Generation. Keynote speakers include Thomas Lah, Executive Director of TSIA, Joe Pinto, SVP, Technical Services, Cisco Systems and Jacques Pommeraud, SVP and GM, Success Services, salesforce.com.
There are also several networking opportunities throughout the conference such as a TableTopic Breakfast, Executive Breakfast, Services Executive Dinner, TSW Tailgate Party and Women in Services Dinner.
About Unanet:
Unanet is a leading provider of Cloud or On-Premise software for project-based organizations. Unanet delivers skills management, resource planning, budgeting & forecasting, time & expense reporting, billing & revenue recognition, and project management reporting. Over 1,000 organizations rely on Unanet to maximize staff utilization, reduce administrative costs by 90%, improve invoicing by 10X, and support forward decision-making for improved operations.