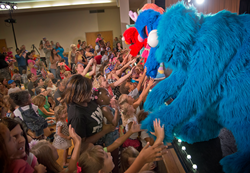 Sesame Street is honored to be a part of such a wonderful partnership with the USO," said Jeffrey Dunn, President and CEO of Sesame Workshop. "The Sesame Street/USO tour has made an incredible impact on the lives of military families . . .
Arlington, VA (PRWEB) April 30, 2015
Studies show more than one million troops will exit the military between 2011 and 2016;* and (that for those who remain in the service) military kids move upwards of 6 to 9 times during their pre-school and high school education.** Sesame Street and the USO are addressing these realities head-on by debuting a brand new 30-minute character performance centered around military-to-civilian transition, while simultaneously running their ever popular hit "Katie is Moving to a New Base." Their newest installment, "Katie's Family Transitions to Civilian Life," will feature new songs, choreography and messages of support. Both shows will run as part of the 2015 Sesame Street/USO Experience for Military Families, which is scheduled to perform more than 100 shows at 45 military bases in nine countries. The tour will kick-off May 7th at Eielson Air Force Base, AK and wrap up sometime in October.
"Sesame Street is honored to be a part of such a wonderful partnership with the USO," said Jeffrey Dunn, President and CEO of Sesame Workshop. "The Sesame Street/USO tour has made an incredible impact on the lives of military families, and with this new show about transitioning from military to civilian life, we've reaffirmed our commitment to create resources to meet an unmet need in the lives of children and families who serve our country with great honor."
When one family member serves, the whole family serves. Sesame Street and the USO know this all too well, having together created a character, Katie, who models the real-life experiences of today's military children. In their new show, military families are taken on a journey as Katie starts a new adventure outside of the military with the assurance that her family and all of her Sesame Street pals are there to support her throughout the transition. While there are many changes coming, there are a lot of happy moments and discoveries for Katie and her friends. Based on the needs of military families overseas, each installation will be given the chance to determine which show performs on their base, with some opting for both the new show and "Katie is Moving to a New Base" – which was introduced by First Lady Michelle Obama and Dr. Biden in 2011.
To further bring their new topic to life, Sesame Street and the USO will once again recognize a service member or family member each month throughout the tour's six-month run. Each individual highlighted will be featured at USO.org/Sesame with a thoughtful narrative portraying their experiences of transitioning out of the military, OR getting ready to go through the process. The personal accounts will touch on their fears, triumphs and reflections in hopes of helping others understand and/or relate to military-to-civilian transitions.
"This year we celebrate the new Sesame Street/USO tour centered solely around troops and military families in transition – an area that is especially important to the USO," said J.D. Crouch II, CEO and President of the USO. "We are incredibly grateful for our partnership with Sesame Street and look forward to supporting even more military families this year."
Just prior to 2011, Sesame Street and the USO tackled a slightly different reality facing our troops and their families: multiple deployments and homecomings. During that installment, which ran from 2008 through 2010 and was entitled "Elmo's Dad is Deployed," the attention was on another furry monster. Through the magic of song and dance, Sesame Street and the USO are supporting more than 3.6 million troops and military families, and letting them know they aren't alone. They are also shining a spotlight on their unique stresses and providing resources to help them navigate through the complexities of military life.
The Sesame Street/USO Experience for Military Families has toured the globe since July 2008 and has become the longest running, traveling tour in USO history. Based on Sesame Street's award-winning Military Families Initiative and now a solid part of the USO's 74-year history of providing entertainment to those serving our nation, the tour has taken its messages of facing fears and embracing change to more than 500,000 troops and military families around the world. With help from Katie, a military child who shares her own experiences with change and transition, and all of her friends, the tour has performed 933 shows on 147 military installations in 33 states and 11 countries and distributed more than 2.5 million outreach materials. To learn more about the tour, its new military-to-civilian transition show, upcoming stops and new resources, like Sesame Street's The Big Moving Adventure app, visit uso.org/Sesame.
MULTIMEDIA:
USO/Sesame Street Tour Photo: https://uso.box.net/shared/hujhnjttji
###
About the USO
The USO lifts the spirits of America's troops and their families millions of times each year at hundreds of places worldwide. We provide a touch of home through centers at airports and military bases in the U.S. and abroad, top quality entertainment and innovative programs and services. We also provide critical support to those who need us most, including forward-deployed troops, military families, wounded warriors, troops in transition and families of the fallen. The USO is a private, non-profit organization, not a government agency. Our programs and services are made possible by the American people, support of our corporate partners and the dedication of our volunteers and staff.
In addition to individual donors and corporate sponsors, the USO is supported by President's Circle Partners: American Airlines, AT&T, BNSF Railway, Clark Construction Group, LLC, The Coca-Cola Company, JCPenney, Jeep, Johnson& Johnson, Kroger, Northrop Grumman Corporation and TriWest Healthcare Alliance and Worldwide Strategic Partners: BAE Systems, BIC, The Boeing Company, ConAgra Foods, FedEx, GEICO, Harris Teeter, Lockheed Martin, Microsoft Corporation, Procter & Gamble, TKS Telepost Kabel-Service Kaiserslautern GmbH & Co. KG and Wawa Inc. We are also supported through the United Way and Combined Federal Campaign (CFC-11381). To join us in this important mission, and to learn more about the USO, please visit uso.org.
About Sesame Workshop
Sesame Workshop is the nonprofit educational organization behind Sesame Street which reaches 156 million children across more than 150 countries. The Workshop's mission is to use the educational power of media to help all children reach their highest potential. Delivered through a variety of platforms, including television programs, digital experiences, books and community engagement, its research-based programs are tailored to the needs of the communities and countries they serve, helping children everywhere grow smarter, stronger and kinder. For more information, visit us at http://www.sesameworkshop.org.
*Mills, Donna. "United States Department of Defense." Defense.gov News Article: Shinseki Vows to Support Military Members, Vets. N.p., 30 Mar. 2012. Web. 17 Apr. 2015. http://www.defense.gov/News/NewsArticle.aspx?ID=67784.
**"DoDEA." All About Military K-12 Partners. N.p., n.d. Web. 17 Apr. 2015. http://www.dodea.edu/partnership/about.cfm.