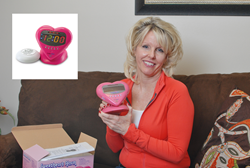 Although it should be SWITCHED OFF this Mother's Day, the special alarm clock offers numerous features to help busy Moms start their day
Troy, Michigan (PRWEB) May 02, 2015
Sonic Alert's latest version of this colorful and versatile alarm clock is a cheerful way to say you care. Although it should be SWITCHED OFF this Mother's Day, the special alarm clock offers numerous features to help busy Moms start their day.
With its hot-pink heart shape and multi colored display, it's a feminine touch in addition to being a great alarm clock. But, don't let the looks fool you, a 113 db extra-loud alarm and a bed vibration will wake even the deepest sleepers. To choose the right wake settings, the alarm features adjustable tone and volume, and the Super Shaker™ bed vibrator features strength control. Red flashing lights and rainbow colored display with 5-level dimmer function provide that visual stimulation upon waking.
For additional preferences, the Sweetheart offers user selectable snooze time, from 1-30 minutes, and alarm duration, from 1-59 minutes. An alarm and vibration test mode make it easy to check these functions at any time. Improved battery backup, for time and alarm settings up to one week, dual time (12 / 24 hour time formats) and new green power technology that uses 60% less energy are also all standard. Sonic Alert alarm clocks are quality built and have a one-year Sonic Alert® blast-proof warranty.
For more information, contact Sonic Alert 1407 Allen Drive, Troy, MI 48083. Phone 248-577-5400, Fax 248-577-5433, or visit http://www.sonicalert.com. Sonic Alert provides products to improve the lives of the hard-to-wake, elderly and the hard of hearing. They are committed to continually producing new and innovative products that fill their customers' needs.