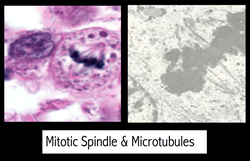 The goal from the earliest discovery days of Ultralight Histology was to reverse engineer the existing process to produce drastically sharper results
(PRWEB) May 04, 2015
Achieved primarily through a proprietary paraffin and stain additive, Ultralight Histology produces slides that boast 10 to 100x better detail than the industry standard. But because it exceeds the capabilities of all existing light microscopy methods, it needed another medium to measure its detail. Electron micrographs were chosen as the frame of reference because it represents the highest standard of detail available.
The goal from the earliest discovery days of Ultralight Histology was to reverse engineer the existing process to produce drastically sharper results. Therefore, the concentrations for the fixative and stain/paraffin additive were empirically derived for optimum detail at 1000x zoom.
In order to test the detail, Ultralight Histology photographed slides at 1000x. These tissues were then compared to published electron micrographs. By comparing the same tissue types, side-by-side, it is ensured that all cellular structures visible in the electron micrographs were also present in the light microscopy slides.
Ultimately, the Ultralight Histology products and methods yield consistent and reliable comparisons to electron microscopy. And in doing so, these Ultralight slides far outpace all existing light microscopy methods currently in use.