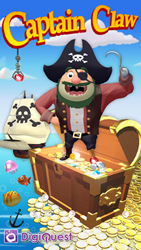 (PRWEB) May 01, 2015
"Captain Claw" was featured on NewsWatch as part of its monthly AppWatch, which takes a look at the latest and coolest applications on the market for iOS, Android, and Windows. Joe Toohey, the host of AppWatch and technology expert, conducted the app review and shared with viewers how this nautical themed game is fun for people of all ages.
Games like Angry Birds and Candy Crush have set a new standard for fun, time-passing apps. The newest game that's having people fall in love is called Captain Claw. It's a game for users to help Captain Claw retrieve his treasure from the sea bed in this graphic rich environment by dropping a claw to grab coins, pearls, gems and dolphins.
The point of the game is to build up lives and points as the game is played. It starts out easy and requires users to get more and more skilled to complete levels. There are extra challenges thrown in like Olly the Octopus and Jerry the Jellyfish trying to come in and mess up the whole operation with electric shocks and screen-covering ink. The game is free but there are in-app purchases if the user wants to buy more lives, time, or drops of the claw. But don't worry, it does come with an option to turn off the payment feature by disabling in-app purchases in the device settings. It's currently available on iOS and Android devices.
To learn more, visit https://itunes.apple.com/PL/app/id901404331 today.
About NewsWatch
NewsWatch is a weekly 30-minute consumer oriented television show that airs on the History Channel, FYI Network, and ION Network. NewsWatch regularly features top technology products and services, mobile applications for iOS, Android, and Windows devices, unique and beautiful travel destinations around the world, health and medical tips, and entertainment interviews on the show. NewsWatch airs on the History Channel at 6:00 – 6:30 AM ET/PT and on the FYI Network from 7:00 – 7:30 AM ET.
NewsWatch is located in the greater Washington, DC area and has been on air for over 25 years. For more information or to watch the most recent episode, visit http://newswatchtv.com/appwatch.html.