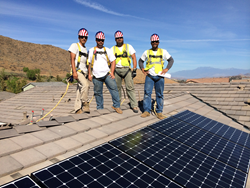 since jobs are the name of the game, we think NABCEP, coupled with TVA's placement efforts, are the winning solution for vets
Murrieta, CA (PRWEB) April 30, 2015
"The White House's recent announcement supporting ongoing solar training for veterans and transitioning service members," said Steve Fulgham, TVA's Co-Founder and Chief Operating Officer, "was the shot in the arm for us to 'amp up' our offering. Our new space will allow us to expand our hands-on training activities and teach on real-life solar situations, including varying roof types, ground mounted systems, micro-inverters, string inverters, choppy arrays, new technologies, etc."
The practical experience is paired with solar photovoltaic coursework in the classroom, which leads to the North American Board of Certified Energy Practitioners [NABCEP] Entry Level Exam, proctored by TVA's training partner, Ambassador Energy. Upon graduation, TVA goes to work placing veterans within the growing solar industry, with local, regional and national solar companies.
"We are big fans of the credibility NABCEP provides the veterans, who are looking for employment," continued Fulgham. "It is a significant 'stamp of approval' for candidates entering the renewable energy space. And, it spans the continent, as the most relevant and recognizable certificate of renewable energy training in North America, so our grads can go anywhere in the U.S. and have a high likelihood of finding jobs in solar. Since jobs are the name of the game, we think NABCEP, coupled with TVA's placement efforts, are the winning solution for vets."
TVA's transition to the new facility at 41120 Elm Street in Murrieta, CA, should be complete by June 1, 2015. "This is a really positive move for TVA," concluded Fulgham. "I look forward to turning out more amazing veterans into the solar arena, where their skill sets are needed and jobs are widely available."
Solar photovoltaic training is scheduled to occur on a monthly basis. TVA encourages any who are interested to contact them.
About The Veteran Asset (TVA)
A tax-exempt nonprofit 501(c)(3)organization, TVA facilitates a two-week Solar PV Design and Installation course and, through training partner Ambassador Energy, the proctoring of the NABCEP EL Exam. Upon graduation, TVA provides placement services.