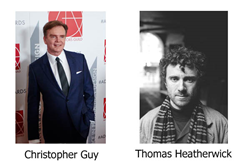 "This is the 'blingest' thing I have ever received. "An award like this is thrilling, because it is so encouraging, not just to me, but to all of my team. My interest is making my projects be special and famous, not myself." - Thomas Heatherwick
Los Angeles, California (PRWEB) April 30, 2015
Internationally-renowned luxury furnishings creator Christopher Guy Harrison presented the 2015 Christopher Guy/ BritWeek Design Icon Award to innovative British de-signer Thomas Heatherwick in Los Angeles on April 29.
Heatherwick, who is founder of London's Heatherwick Studio, has been called a "Leonardo da Vinci of our times" by his early patron, famed British designer Terence Conran.
Heatherwick collected the Design Icon Award at a private event at Christopher Guy's stunning West Hollywood showroom in Los Angeles.
British Consul General in Los Angeles Chris O'Connor attended the lavish ceremony, introduced by Britweek Chairman Bob Pierce. Thomas Heatherwick was inducted by Andy Cohen, FAIA, Co-CEO of Gensler, before Christopher Guy Harrison handed the award over. The evening was part of the annual Brit Week Festival.
Accepting the honor, Heatherwick said, "This is the 'blingest' thing I have ever received. An award like this is thrilling, because it is so encouraging, not just to me, but to all of my team. My interest is making my projects be special and famous, not myself."
"I don't do my projects for myself. I am doing them because my passion is public projects and so if they can mean something to some people then that makes it all worthwhile."
Brand CG creator Christopher Guy Harrison added of Heatherwick's honor, "Thomas is brilliant. He is one of the greatest innovators, inspiration, creators of the 21st Century. His creations and visions have made a huge impact on the world of design globally so I felt we couldn't have a better icon."
Heatherwick is one of the leading lights in the world of architecture. His latest projects, which have garnered worldwide interest, include the co-design with Bjarke Ingels of Google's new California headquarters and the London Garden Bridge.
Previous recipients of the Design Icon Award have included London-based interior designer Nina Campbell, Jaguar Design Director Ian Callum and Royal Milliner Philip Treacy.
The Christopher Guy brand is itself known as a creator of the world's most fabulous lifestyles, with a global footprint in luxury residential and hospitality industry design. Sponsors on the night included Faber-Castell, Belvoir and Chopin Vodka.
For further press information please contact Ms. Birgit Müller, Christopher Guy Brand Ambassador, + (323) 332-9520, or email: birgit(at)brandamb(dot)com
--end--
PHOTOS AVAILABLE
http://rexgelert.photoshelter.com/gallery/Christopher-Guy/G0000GzEVDKjin0s/C0000cQtuL8zfzjU
Credit - Photo by Rex Gelert on behalf of Christopher Guy
EPK VIDEO CLIPS AVAILABLE (Ceremony, Interviews and Event B-Roll)
Full Ceremony Footage:
https://www.dropbox.com/sh/21rlx3lpm5e2k1b/AABXBR8yY5Y_W4LcVjV7S3t6a?dl=0
Interviews: https://www.dropbox.com/sh/dymoi8j9kc6l3ik/AAApn83nsNWffqOyTFMvYUAza?dl=0
B-Roll of Event:
https://www.dropbox.com/sh/gkaxhe88dalbpyl/AADHbutmVUltj-LANRJIXFC6a?dl=0
Please credit all video material to ChristopherGuy.com